Lake Garda hosts a fantastic range of events throughout the year, meaning it's more than likely that whatever time you visit, there will be something exciting going on. With the open air theatre in Gardone Riviera and the opera arena over in Verona, there's no shortage of music, dance and theatre with performers including big international names. Concerts and festivals bring all musical styles and genres here year after year, food and wine events are a brilliant excuse to enjoy local produce and regular firework displays offer a spectacular end to the day.
Considering the amazing water conditions and varied terrain here, it's no surprise that there's nearly always something sporty going on - international events see the world's top athletes compete in regattas and bike races throughout the year. In a place that's oozing history and knee deep in culture, you can be sure to find religious rituals, historic commemorations and fantastic age-old traditions. Have a look below through the main events for each month and make sure to enjoy the atmosphere and get involved if you're on holiday at the right time.
Lake Garda events in May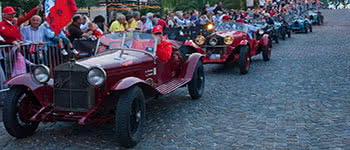 Mille Miglia, Desenzano, Sirmione and Peschiera
'The most beautiful race in the world', this famous race of classic cars begins in Brescia, passing through Desenzano, Sirmione and Peschiera on the route to Rome. Head to Brescia for the starting line or check out the timetable and find a vantage point and watch the cars go by.
Trofeo Neirotti, Torbole
A 2 day windsurfing event in Torbole, including a section of the Italian world cup and a regional slalom championship in memory of great Italian windsurfer Paolo Neirotti. Torbole is a hive of activity and excitement during this event - head down to the lakeside to enjoy the action.
Garda Trentino Olympic Week, Riva
The European circuit usually kicks off in Riva with Garda Trentino Olympic Week. Organised by EUROSAF, this 5 day sailing event features both Olympic and Paralympic classifications with participants including some of the world's best sailors. Enjoy the action from the lakeside – there are even Spectator boats where you can watch from the water.
Bike Festival Garda Trentino, Riva
Europe's mountain biking season opens with this bike festival which Lake Garda has hosted for the past 20 years. With various competitions including a marathon, exhibitions and Riva's amazing mountain terrain, it attracts around 25,000 visitors. There's lots on during opening night from a rodeo-style surfing simulator to hot dog stands and guaranteed partying.
See Lake Garda in May or research: Bardolino | Desenzano | Garda | Gardone | Malcesine | Peschiera | Riva | Salo | Sirmione | Torbole | Torri | Limone | Maderno
Lake Garda events in June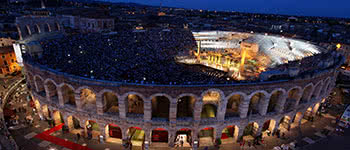 Opera Festival at the Arena di Verona, Verona
A trip to Verona during your Lake Garda holiday is a must if you want to visit one of the famous Italian towns and there's no better time to do this than during the Opera Festival. Arena di Verona's opera festival has celebrated world class opera since 1912 and has events from June to September.
Chiaretto wine festival, Bardolino
A fantastic festival in Lake Garda's wine capital celebrating Bardolino's famous rose wine, the Chiaretto wine festival is a must-visit event if you're staying in or near Bardolino in June. Enjoy wine tasting and food stalls along the waterfront as well as live music and entertainment for all ages.
International triathlon, Bardolino
The International triathlon is one of the biggest sporting events on Lake Garda and the area's mild climate, clear water and stunning mountain scenery has brought top athletes to compete here since 1984. The race starts off at Lido Cornicello and ends with food and celebrations at Villa Carrara Bottacisio.
Garda Jazz festival, Riva and Torbole
This has been a regular event here for over a decade in late June and early July and adds a fantastic atmosphere to the northern towns. The festival includes performances from top jazz musicians in stunning venues like the Bastione, Rocca, historic piazzas and Arco and Drena Castles as well as a beach parade.
See Lake Garda in June or research: Bardolino | Desenzano | Garda | Gardone | Malcesine | Peschiera | Riva | Salo | Sirmione | Torbole | Torri | Limone | Maderno
Lake Garda events in July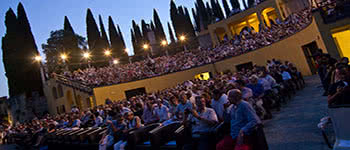 Summer festival at the Vittoriale Theatre, Gardone Riviera
The open air Vittoriale Theatre offers a spectacular view over the lake and mountains. Every summer it hosts a fantastic arts festival with performances including Theatre, Classical music, Opera and Ballet. Past performers include the Vienna Opera, Pat Metheny, Wynton Marsalis, Lou Reed and the New York City Ballet.
Sardellata al Pal del Vo, Lake Garda
If you want to experience an age-old tradition and enjoy a really magical evening, head to San Vigilio and Manerba for the Sardellata al Pal del Vo. Boats gather in the middle of the lake around the promontory of Vo to practice the ancient rites of Lake Garda fishermen in one of the most fascinating events on the lake. Sardines are caught, cooked and enjoyed on the lakeside under the stars, followed by celebratory fireworks.
Film Festival del Garda, Lake Garda
This annual film festival celebrates national and international films, both new and old in one of the towns on Lake Garda. With showings of feature and short films and award ceremonies as well as music and entertainment, it's definitely worth getting involved if you're staying in Lake Garda at the time.
Il Festival del Garda, Lake Garda
The Festival del Garda takes place annually in July and August and is one of the only events on Lake Garda that tours most of the towns on the lake. With events including music competitions and beauty pageants it brings a great air of excitement to the area.
See Lake Garda in July or research: Bardolino | Desenzano | Garda | Gardone | Malcesine | Peschiera | Riva | Salo | Sirmione | Torbole | Torri | Limone | Maderno
Lake Garda events in August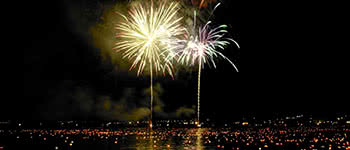 Night of Enchantment, Desenzano
This is an absolute feast for the eyes. The town is buzzing with a fantastic parade, music and dancing but the real spectacle is on the lake - boats are twinkling with thousands of candles and floating candles are released onto the lake. It's an unforgettable event and concludes with a huge firework display.
International tennis tournament, Limone
The 'Citta di Limone' tennis tournament has been taking place in Limone for over 30 years now and with competitors from all over the world and evening entertainment it brings a fantastic atmosphere to the town. The tournament is arranged by the Limone Tennis Club which has 3 brilliantly maintained tennis courts.
August bank holiday, Lake Garda
A date to remember in August is the 15th, when Italy celebrates Ferragosto with a national bank holiday. Italians usually head to the beach, but while the beaches are busier, the towns are much quieter so if you want to experience Venice, Verona or Milan with fewer crowds, this is a great time!
Bisse races, Lake Garda
Bisse are long, narrow boats (similar to gondolas) traditionally used by Lake Garda fishermen. Today they feature in annual races between teams from around the lake who compete for the Bandiera del Lago (Flag of the Lake). These races take place throughout the summer and the final in August includes an amazing pyrotechnics display.
See Lake Garda in August or research: Bardolino | Desenzano | Garda | Gardone | Malcesine | Peschiera | Riva | Salo | Sirmione | Torbole | Torri | Limone | Maderno
Lake Garda events in September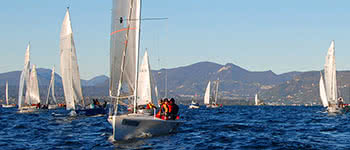 Cento Miglia, Lake Garda
This is Lake Garda's most important sailing regatta, attracting crowds of sailors and spectators every year in the first weekend of September. Established in 1951, it also holds the title of the longest running sailing competition in Italy. The world famous event sees hundreds of boats compete in a race around the lake, including some of sailing's biggest names.
See Lake Garda in September or research: Bardolino | Desenzano | Garda | Gardone | Malcesine | Peschiera | Riva | Salo | Sirmione | Torbole | Torri | Limone | Maderno
Lake Garda events in October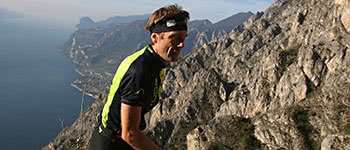 Bikextreme & SkyRace, Limone
Bikextreme is an international mountain biking race that has taken place in Limone for over 20 years. The race is nowadays combined with a Sky Running event. The Limone Extreme SkyRace covers 23 ½ km with an elevation gain of 2,005m at the top of Monte Carone.
Grape and Wine Festival, Bardolino
One of the best events on Lake Garda celebrating one of the best things about Bardolino, the Grape and Wine Festival is a five day celebration of Bardolino's famous wine. Expect abundant wine tasting, food stalls offering delicious Italian produce and entertainment for all ages including live music and fireworks.
In...Canto sul Garda, Riva
In...Canto sul Garda is an International Choir Competition & Festival in Riva where choirs from around the world gather to sing together, compete and enjoy the surroundings. Choirs include Jazz, gospel, pop and spirituals as well as traditional choirs – the opening and closing nights are especially good.
International marathon, Limone, Riva, Torbole, Malcesine
Lake Garda hosts an international marathon every October, bringing athletes from around the world to run by the lake with the amazing mountain backdrop. The race begins in Limone, goes through Riva and Torbole and finishes in Malcesine. There's also a 15km run which anyone can take part in if you fancy packing your running shoes and getting involved!
See Lake Garda in October or research: Bardolino | Desenzano | Garda | Gardone | Malcesine | Peschiera | Riva | Salo | Sirmione | Torbole | Torri | Limone | Maderno
Events around Lake Garda
Bardolino | Desenzano | Garda | Gardone Riviera | Malcesine | Peschiera | Riva | Gulf of Salo | Sirmione | Torbole | Torri | Lazise | Limone | Maderno