Bandiera del Lago Bisse race, Lake Garda JUNE-AUGUST
Toscolano (the town next to Maderno) is one of the Lake Garda towns with a team that competes annually in a traditional series of Bisse races for the Bandiera del Lago. Bisse are long, narrow boats, similar to gondolas that are rowed by a team of 4 standing oarsmen. The regattas take place in Lake Garda towns including Toscolano throughout the summer months, so if you're staying in Maderno in June, July or August, check out the schedule and head to the lakeside to cheer on Toscolano for a great summer evening.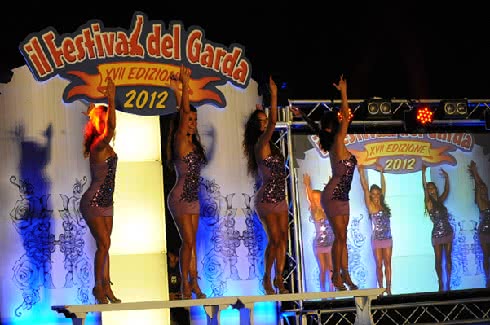 Il Festival del Garda, Lake Garda JULY AUGUST
The Festival del Garda takes place every year around Lake Garda in July and August, the only Lake Garda event that travels around the main towns with singing competitions, dance, fashion shows and much more. It is part of the Great Italian Festivals circuit and has a big following both around the lake and internationally.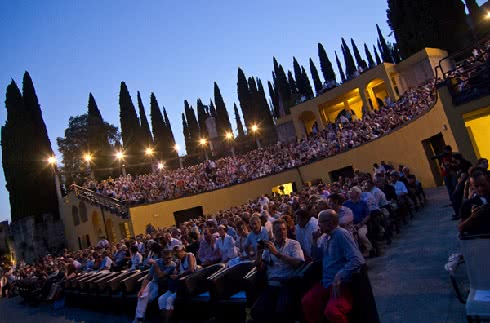 Summer festival at the Vittoriale Theatre, Gardone Riviera JULY AUGUST
If you're staying in Maderno in July or August and fancy doing something special, head to nearby Gardone Riviera for a fantastic evening at the Vittoriale Theatre. The Vittoriale is a stunning open air theatre offering an incredible view of the lake and mountains and Gardone Riviera hosts a summer arts festival here, where you can book tickets for a variety of music, dance and theatre performances including jazz, opera and ballet. Check the line up and book your seats early for an unforgettable summer evening.
Cento Miglia, Lake Garda SEPTEMBER
Born in 1951, Cento Miliga is not only the longest running sailing competition in Italy – it's also the most important. Every September, sailors and spectators flock to Lake Garda for the regatta which starts in Gargnano and goes all the way around the lake. Maderno is one of the nearest towns to Gargnano (it's about a 10 minute drive) so this is a great place to stay if you want to enjoy some of the action!