Bandiera del Lago Bisse race, Lake Garda JUNE - AUGUST
Bisse are narrow boats that are rowed by teams of 4 standing oarsmen. While they were used historically by fishermen, they now feature in an annual regatta for the Bandiera del Lago (Flag of the Lake). Torri del Benaco competes against other Lake Garda towns in Bisse regattas on summer evenings through June, July and August with the final including a big celebration and pyrotechnics show. Each town hosts its own regatta leading up to the final, so if you're staying in Torri while it's on, it's well worth heading to the lake to enjoy the action!
Sardellata al Pal del Vo, Lake Garda JULY
If you're staying in Torri in July and want to experience an age-old tradition of Lake Garda, head to nearby San Vigilio for the Sardellata al Pal del Vo. This unforgettable evening celebrates the ancient practices of Lake Garda fishermen with a gathering of boats in the middle of the lake and lakeside festivities. Sardines are caught from the boats and bought back to the shore, where they are cooked and enjoyed under the stars with a fantastic firework display to finish the night.
Opera Festival at the Arena di Verona, Verona JUNE - SEPTEMBER
If you're staying in the Province of Verona between June and September, take a trip to Verona itself for the amazing Opera Festival at the Arena (Verona is only ¾ hour's drive from Torri). The opera festival began as a commemoration Giuseppe Verdi's life in 1913 and continues to celebrate opera in Verona's stunning amphitheatre 100 years on. With a selection of titles performed by big names including Andrea Bocelli, Josè Carreras and Plácido Domingo, this is a fantastic time to attend the opera whether you're a returning operaphile or experiencing the whole thing for the first time.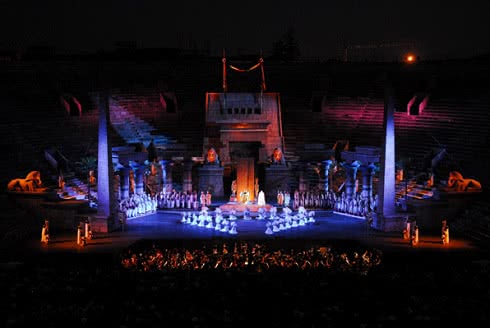 Cento Miglia, Lake Garda SEPTEMBER
If you're taking a holiday in Torri in early September, don't be surprised if you see an unusual amount of sailors on and around the lake. World famous sailing regatta Cento Miglia takes place at this time of year, bringing hundreds of boats, some of the best names in sailing and a fantastic buzz of excitement to the lake. The race begins on the other side of the lake in Gargnano and tours the whole lake; head over to the western shores for the festivities or find a comfortable vantage point and enjoy the action from the lakeside.