Bandiera del Lago Bisse race, Lake Garda JUNE JULY AUGUST
Bisse are long, narrow boats (similar to gondolas) that were traditionally used by Lake Garda fishermen. Today they feature in annual races between teams from around the lake who compete for the Bandiera del Lago (Flag of the Lake). These races take place in the main towns throughout the summer months and the final in August includes an amazing pyrotechnics display. The Bisse races on Lake Garda add a great atmosphere to the area – find out when they are on during your stay in June, July or August and head to the lake to support the team from Garda!
Sardellata al Pal del Vo, JULY
If you want to experience an age-old Lake Garda tradition and enjoy a really magical evening, head down to to San Vigilio for the Sardellata al Pal del Vo. Every year, boats gather in the middle of the lake around the promontory of Vo to practice the ancient rites of Lake Garda fishermen in one of the most fascinating events on the lake. Sardines are caught, cooked and enjoyed on the lakeside under the stars, followed by celebratory fireworks.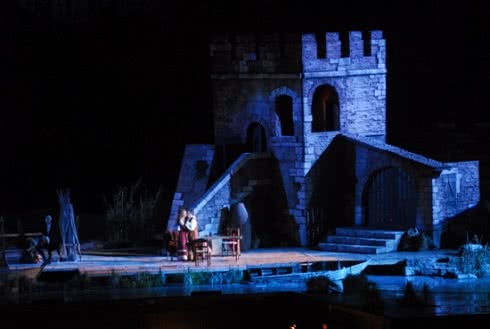 Opera Festival at the Arena di Verona, Verona JUNE - SEPTEMBER
Verona is about a 40 minute drive from Garda and with its Opera Festival running from June-September, Garda is an excellent place to stay if you want to experience the legendary Verona Opera. The Arena di Verona opera festival has celebrated opera for a hundred years with performances from the biggest names in Opera, so if you haven't visited the arena or been to the opera before, this is a spectacular time to visit.
Cento Miglia, Lake Garda SEPTEMBER
The Cento Miglia regatta takes place every year on Lake Garda. It's the longest running sailing regatta in Italy (beginning in 1951) as well as being a huge event on the world's sailing calendar and brings hundreds of competitors and spectators to Lake Garda every September. The race goes all the way round the lake – head up to Gargnano for the start.