Garda Trentino Olympic Week with EUROSAF, Riva MAY
The European circuit usually kicks off in Riva every May with Garda Trentino Olympic Week. Organised by EUROSAF, this 5 day sailing event features both Olympic and Paralympic classifications with participants from 43 nations including some of the best sailors in the world. If you're staying in Riva during Garda Trentino Olympic Week, head to the lakeside to enjoy the action – there are even Spectator boats where you can watch from the water.
Enduro Series Mountain Bike Race, Riva MAY
One round of the Enduro Series takes place in Riva in May, making use of the fantastic mountain bike terrain around the north end of Lake Garda. This adds a great buzz to the area which is great in May which is one of the town's quieter months.
Bike Festival Garda Trentino, Riva MAY
The European mountain biking season opens with Bike Festival Garda Trentino which Lake Garda has hosted for the past 20 years. With various competitions including a marathon, numerous exhibitions and Riva's amazing mountain biking terrain, the festival attracts around 25,000 visitors. If you're staying in Riva at the time of the festival, head over to opening night where there's a lot on from a rodeo-style surfing simulator to hot dog stands and guaranteed partying.
Garda Jazz festival, Riva JUNE-JULY
Garda Jazz festival has been a regular event on Lake Garda for over a decade and adds a fantastic atmosphere to the northern towns. The festival includes performances from top jazz musicians in stunning venues like the Bastione, Rocca, historic piazzas and Arco and Drena Castles as well as a brilliant beach parade.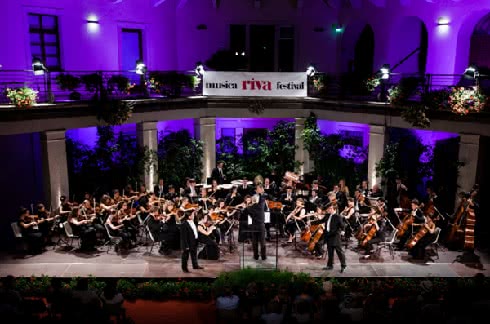 Musica Riva Festival, Riva JULY AUGUST
Riva's biggest music event of the year and a huge event on the European classical music calendar is the Musica Riva festival. Musica Riva festival has been returning to Riva for over 20 years, bringing performers from around the globe for master classes and an International Competition. The festival also consists of 15 days with a different performance each evening including opera, piano recitals, orchestras and singers. Past performers include big names such as Paul Simon, Gloria Gaynor and Renato Bruson.
In...Canto sul Garda, Riva OCTOBER
In...Canto sul Garda is an International Choir Competition & Festival in Riva where choirs from around the world gather to sing together, compete and enjoy the surroundings. Choirs include Jazz, gospel, pop and spirituals as well as traditional choirs. If you're staying in Riva in the middle of October and want to enjoy the music of fantastic choirs from around the world, this is definitely worth getting seats for – the opening and closing nights are especially good.