Honey Festival, Lazise OCTOBER
If you're staying in Lazise in October and see a large tent in the town, it's because you're lucky enough to be here during the annual honey festival. This great festival is the biggest exhibition of honey production in Italy, showing the work of honey producers from all over the country every year for over 30 years. You'll find an amazing range of honey-related produce from jars of honey to delicious sweets and cakes. Don't be put off if you're not a honey fan – other products including olive oil are also available to try and buy.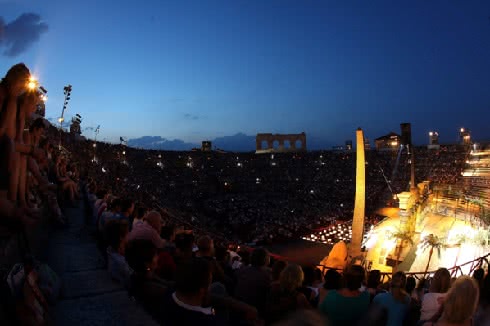 Opera Festival at the Arena di Verona, Verona JUNE - SEPTEMBER
The Arena di Verona Opera festival has been celebrating world class opera in Verona's striking arena for over 100 years and with Verona being only half an hour's drive from Lazise, a day in one of Italy's most famous towns followed by a night at the opera can be a memorable part of your holiday. The festival runs from June to September and includes performances from big names including Andrea Bocelli and Josè Carreras.
Bandiera del Lago Bisse race, JUNE - AUGUST
Teams from towns around Lake Garda including Lazise compete in Bisse (Venetian style boats, typical of Lake Garda) in an annual series of races throughout June, July and August.
Each bisse has 4 oarsmen who row the boat standing and race in competition for the Bandiera del Lago. These races add a great air of excitement to the towns during the summer, so if you're staying in Lazise while it hosts the race, it's a great thing to enjoy from the lakeside!
Rievocazione storica di Ottone II, Lazise MAY
A long-standing tradition celebrating Lake Garda's history, the Rievocazione storica di Ottone II brings a medieval atmosphere to Lazise every May in commemoration of Emperor Otto II. The day is usually filled with colourful parades, historical re-enactments, street entertainment and activities for all ages – expect some amazing costumes, live music and lots of flag waving.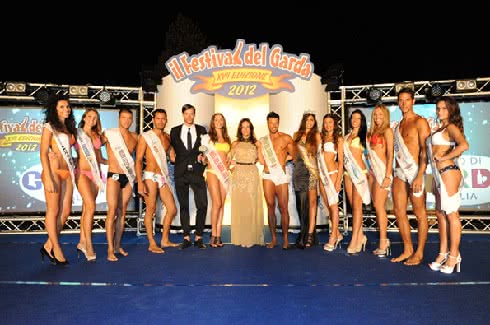 Il Festival del Garda, JULY AUGUST
The Festival del Garda, which takes place annually in July and August, is the only event on Lake Garda that tours most of the towns on the lake. With events including music competitions, dance shows, fashion shows and beauty pageants, it brings a great atmosphere to the lakeside.