Summer festival at the Vittoriale Theatre, Gardone Riviera JULY AUGUST
Gardone Riviera's Vittoriale Theatre is a stunning open air theatre with a spectacular view over the lake and mountains. Every summer it hosts a fantastic arts festival with evening performances including Theatre, Jazz, Classical music, Opera, Circus and Ballet. With past performances from the Vienna Opera, Pat Metheny, Wynton Marsalis, Lou Reed, Patti smith and the New York City Ballet, it's well worth checking the line up and booking some seats for an amazing evening in Gardone.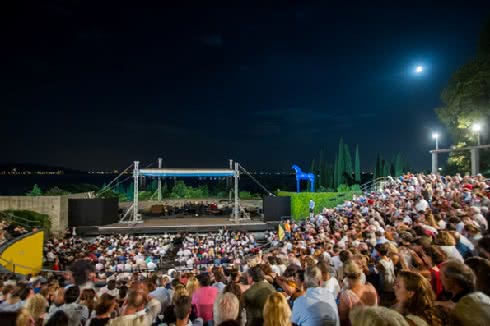 Bandiera del Lago Bisse race, JUNE - AUGUST
Every year, the summer months see a series of regattas where teams representing towns of Lake Garda compete in Bisse races for the 'Flag of the lake'. Bisse are boats that are typical of Lake Garda (a bit like gondolas), rowed by 4 standing oarsmen. The races take place in different towns through June, July and August with the winners crowned at a fantastic flag-hoisting ceremony with parties and fireworks. All races take place in the evening – check the programme and head to the lakeside after supper to enjoy the exciting atmosphere and cheer on Gardone Riviera!
Cento Miglia, SEPTEMBER
Hundreds of boats, some of the biggest names in sailing and flocks of spectators visit Lake Garda every year for the famous Cento Miglia. This is the longest running and most well known regatta on Lake Garda and takes place in early September, so if you're staying in Gardone Riviera at this time of year it's well worth heading up to Gargnano for the start or to the Gardone Riviera lakeside to watch the boats as they race by.