Bisse regata del garda, Lake Garda JUNE - AUGUST
Bisse are narrow narrow boats, similar to gondolas that are typical of Lake Garda. It's widely believed that Salò held the first Bisse regatta on Lake Garda in 1548, which makes it appropriate that over 450 years later, teams from Salò continues to compete in the annual Bisse regatta.
Every year, the warm summer nights of June, July and August see exciting races between the towns of Lake Garda who compete for the Bandiera del Lago. The winners are crowned in August with a flag-hoisting ceremony and amazing firework display. If you're staying in Salò while a race is on, head to the lake to support your team for a great evening of Lake Garda tradition.
Sardellata al Pal del Vo, JULY
If you're staying in Salò, head down the lake to Manerba for the Sardellata al Pal del Vo. One of the most fascinating Lake Garda traditions, this celebrates the ancient practices of Lake Garda fishermen with a magical evening on the Lake. Fishing boats meet in the middle of the lake around the promontory of Vo and use ancient fishing methods to catch sardines which are then cooked and enjoyed on the lakeside. The whole event has a wonderfully serene, magical feel and concludes with a firework display.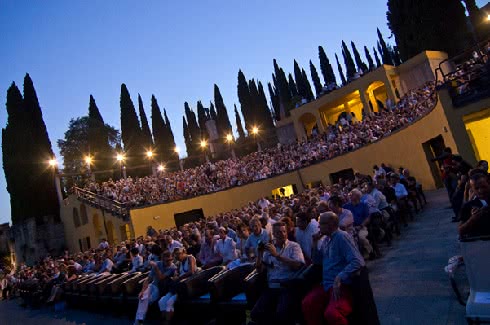 Summer festival at the Vittoriale Theatre, Gardone Riviera JULY AUGUST
Nearby Gardone Riviera, Salò is a fantastic place to stay for the summer festival at the Vittoriale Theatre. The Vittoriale theatre is a spectacular open air building, offering an incredible view over Lake Garda and an unforgettable location to enjoy performances by big name artists from around the world. There are a range of events from classical music to circus and with past names including the Vienna Opera, Lou Reed and the New York City Ballet, it's well worth booking tickets for an amazing evening in Gardone Riviera.
Cento Miglia, Lake Garda SEPTEMBER
Cento Miglia first took place in 1951 and brings crowds of sailors and spectators to Lake Garda every year making it Italy's longest running sailing competition. Hundreds of boats compete in the race, which beings in Gargano and goes all around the lake. Cento Miglia is a world-famous event on the sailing calendar so if you're a fan of the sport, September is a great time to visit.