Chiaretto Wine Festival, MAY - JUNE
Fantastic festival in Lake Garda's wine capital celebrating Bardolino's famous rose wine, the Chiaretto wine festival is a must-visit event if you're staying in Bardolino in June. With wine tasting and food stalls along the waterfront, live music and entertainment for all ages, this is a great opportunity to experience the amazing local produce and enjoy a great atmosphere by the lake.
International Triathlon race, JUNE
The International Triathlon is one of the biggest sporting events on Lake Garda and the mild climate, clear water and stunning scenery has attracted top athletes since 1984. The race takes place in Bardolino, starting off at Lido Cornicello and ending with food and celebrations at Villa Carrara Bottacisio. Swim/Bike/Run... or just watch!
Bandiera del Lago Bisse race, JUNE - AUGUST
Bardolino and other towns around Lake Garda including nearby Garda and Lazise compete every summer in Bisse (traditional boats, similar to gondolas, which are paddled while standing up) races as part of a long-standing competition for the Bandiera del Lago (flag of the lake). These add a fantastic atmosphere to the area with parades and festivities, making it well worth heading to the lakeside, if you're staying in Bardolino while it hosts the race. If you're staying in Bardolino in August, when the final takes place – find out which town is hosting and enjoy a great closing ceremony with a spectacular firework display.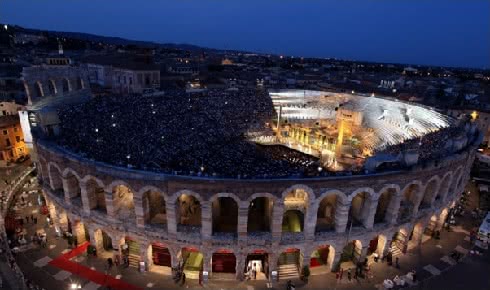 Opera Festival at the Arena di Verona, Verona JUNE - SEPTEMBER
Bardolino is in the Province of Verona and if you want a real Verona experience during your stay, head to the town itself (only around 40 minutes in the car) for the Arena di Verona Opera festival. This fantastic festival runs from June to September, with 58 performances of 6 operas with big names including Andrea Bocelli, Josè Carreras and Plácido Domingo. In terms of venue, there's no better place to experience the opera than in Verona's stunning amphitheatre. Book your tickets early from the arena box office – prices start from €10 for unreserved stone steps.
Bardolino Grape and Wine Festival, OCTOBER
One of the top events on Lake Garda, celebrating one of the best things about Bardolino, the Grape and Wine Festival is a five day celebration of Bardolino's famous wine. Wine tasting abounds, alongside food stalls offering delicious Italian produce and entertainment for all ages, including live music and fireworks. Tours are also available around the area's fantastic vineyards and wineries (speak to your rep in resort).