Lake Garda is immersed in a wealth of history that has attracted artists and travellers to its shores for centuries. The stunning setting is surrounded by a fascinating past, extending from the Bronze Age to the Great World Wars and passing through the hands of multiple dominions which have shaped the rich culture that the lake exudes today.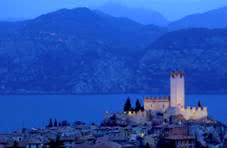 Fascinating Roman remains reveal Italy's ancient roots making for an intriguing insight in to how this Imperial era lived. The grotto di Catullo in Sirmione and Villa Romana in Desenzano are well-preserved villas offering valuable examples of typical Roman houses. After the fall of the Roman Empire, the Carolingian rule took hold and during the middle ages religious buildings and rich décor spread across the lake. Venetian and Baroque architecture refine the feel of the towns and illuminate Italy's decadent past.

Impressive fortifications and buttressed castles from the Scaglieri era loom over the lake-side towns and stand as a sturdy reminder of the many invasions and conflicts that the Riviera was subjected to. As Italy's largest lake with a prominent location in the Northern provinces it was an important economic and political hub that was at the centre of rivalry for centuries. Entering Sirmione takes you on a journey through time, crossing the drawbridge of the story-book castle in to the town and magnificent views of Torri Castle can be seen from the park below.
After an age of Austrian rule the Italian Risorgimento movement ensued and marked a significant turning point for Italy. The 19th century wars of independence would forever seal a sense of proud Italian patriotism on the lake. The war monument dedicated to the battle of Solferino at Desenzano stands where the combat took place, reminiscent of the gruelling Italian fight for freedom. After an intense period of conflict Italy was unified under the king Vittorio Emmanuel II and the true beauty of the lake could be fully appreciated.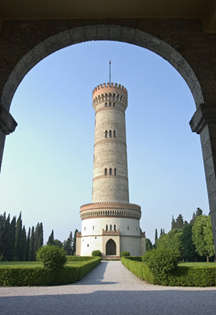 During this time of tranquillity artists from the romantic world journeyed across the water to find their inspiration in the place Catullus named the 'jewel of whatever is bright in the waters'. Tennyson and D.H Lawrence were moved to create some of their most powerful literature here and Goethe spent his artistic retreat in Malcesine painting some of his favourite sites, immortalising their beauty through his work. The eccentric poet and political thinker Gabriele D'Annunzio also made his mark on the lake through his creation of the fascinating Vittoriale in Gardonna Riviera and Mussolini spent some of his most intimate moments in this idyllic spot, during the setup of the Italian social republic in Salò.
Lake Garda offers a true taste of Italian culture and enthralling history. Expressing its charm with perfect precision, Ezra Pound wrote to James Joyce in 1921, "Dear Joyce, I'd like you to spend a week here with me. The location is well worth the journey- both Catullus and I can guarantee it!"
History around Lake Garda
Bardolino | Desenzano | Garda | Gardone Riviera | Malcesine | Peschiera | Riva | Gulf of Salo | Sirmione | Torbole | Torri | Lazise | Limone | Maderno