Scaligera Fortress

This impressive monument stands like a castle from a story-book. Take a journey through time as you cross the draw-bridge of this enchanting castle to enter the town. The Castle was built in the 15th century by the Venetian Republic as a fortress for the Della Scala family in exchange for their control of the fiefdom. It is now the entrance in to Sirmione and is one of the lakes most fascinating attractions.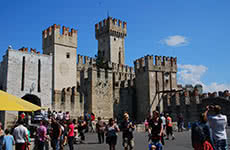 Grotto di Catullo
The grotto di Catullo is the largest example of a Roman villa in Northern Italy. Although named after him, the Villa most probably didn't belong to Catullus himself, but a wealthy family living in the area and was named after him due to his significance in the town. The villa is dated around 150 AD during the Roman Empire and is a valuable example of a typical Roman villa built for a wealthy family. A museum in the house reveals a number of interesting findings during the excavation.
San Pietro Church
Built in the 9th century during the Lombard rule the church sits on the highest hill in Sirmione. The building has an intriguing design, with an irregular rectangular build and 9th century Romanesque bell tower.
Thermal Baths
Excavations of pipework near the grotto di Catullo offer evidence of Roman bath houses in the area during the ancient period and a recent finding has led to a number of spa facilities in the area today. In 1889 a diver from Venice discovered sulphurous hot springs spurting out of the lake bed at a temperature of 70 degrees. Today the spa's channel the hot water, which is said to have healing qualities, in to their establishments for a variety of treatments.