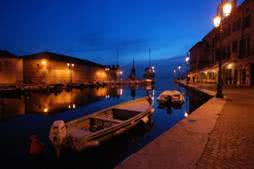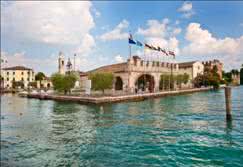 The Venetian customs house
The Customs house has had a significant impact on the town of Lazise throughout the course of history, it was from here that Venice controlled Lake Garda's trade for centuries. The original building was erected by the Della Scala family during the 14th century as an arsenal to enforce the defence of the town against the Hungarian invasions. In the 1600's, the era of the Venetian Republic, the building was used as the customs house and became the main trading centre through which all goods were imported and exported due to its location on the ancient harbour. Later, Nitro-glycerine, a key ingredient in gun powder was made here. The house also acted as the 'fascio del casa'- the fascist party base during the period of fascism in Italy and is now restored as a conference centre.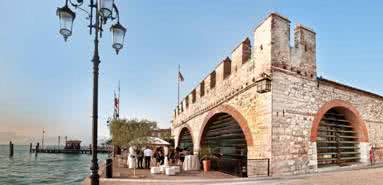 Scaligero Castle
You can enjoy the fascinating exterior of this impressive castle from the view at Villa Bernini Park. Originating in the 9th century to act as a defence against the Hungarian forces, the castle has been reinforced throughout the ages to protect against invasion. The castle is a perfect example of 14th century architecture from the Della Scala era. The coat of arms is still visible on two entrances and marks out the ancient proverb of Lazise 'The justice of the dragon punished he who is right'.
Religious Buildings
San Zeno church has its origin in a document dated 1295 and was dedicated to the patron saint of water and fishing. Renovations in the 18th century have secured the buildings standing today. Two significant pieces of artwork remain inside the building, the San Martino altarpiece dated 1828 and the via Crucis (1831).
S. Nicolo church is a 12th century church dedicated to the patron saint of school and seamen. Over the centuries t became a public house of worship, a store, barracks and even a theatre then cementing itself as a war memorial chapel. During the summer the locals hold Mass in the building.
16th Century Venetian Galley
This shipwreck lies 500 metres of the shore of Lazise on the muddy sea bed around 25 metres deep. Recent excavations have discovered that the vessel was sunk by the Captain of the lake, Zuane Moro, by loading it with stones and setting fire to it after the defeat of the Venetian troops at Agnadello in 1509.
Villas
Villa Pergonala originally stood as a 15th century monastery. In the 18th Century it was redesigned in renaissance style by James Franco in the Lombard era to resemble a castle. The villa is surrounded by luscious gardens which reach down to the shore of Garda. The villa Bernini was built in the second half of the 18th century and stands at the lake-side of Lazise encased by the ancient walls.