A genuine "local expert" restaurant review
Paulo is a friend that we were lucky enough to meet when he was working in the restaurant of the Poiano hotel in Garda. With a lifetime of living around Lake Garda, and working and eating in its restaurants, we thought it would make much more sense to have him tell you where is great to eat, and which traditional local dishes you can look out for. Above is a video of his 8 favourite restaurants – places where Paulo really rates both the chef and the wine… and of course the service.
Where to eat in Lake Garda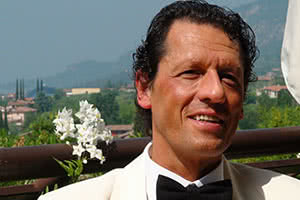 Paulo: In every small town all around the lake, there is one diamond restaurant. In Lazise, Alla Grotta is incredible for the fish, from the sea and from the lake. In Malcesine there is the La Vecchia Malcesine, one Michelin star; wonderful [wine] cellar, wonderful kitchen. The chef is the owner, so he's putting his heart into his work. And the view… you have an incredible view here from there because you are a little way up. And then there is of course San Vigilio. Well, at San Vigilio, everything's a dream; the hotel, the place and the restaurant. And then where I live in Torri del Benaco we have Trattoria Viola: one Michelin star, the staff are wonderful, really friendly. Or the Hotel Baia dei Pini, where you really are by the lake, two metres away - you're almost on the beach. If you can book a table the two waiters are incredible, the chef is really good, good [wine] cellar; really friendly, nice place. You'll enjoy it. Here in Garda, we have the restaurant from the Hotel Regina Adelaide; romantic place, good chef. And then, in Bardolino, Giardino delle Esperidi; really wonderful [wine] cellar, really good kitchen. Or something classic, like Al Commercio, for typical dishes from the Garda lake.
For Paulo, food is very important and some places make dining out a magical experience (maybe that's why we loved eating with him). His favourites listed above are which he calls the "true diamonds" and he should know, being born and bred in Lake Garda.
Paulo was working at the Poiano when we visited in late May 2012 but you might also spot him in one of the local bars of Torri del Benaco, catching up with his old school friends.
Speaking of bars, you can also watch Paulo's video guide to the incredible local wines of this region, on our page devoted to the best bars around Lake Garda.
What to eat in Lake Garda
SNO man: When you're thinking this is a typical Garda kind of dish, what does that mean?
Paulo: Oh, Risotto con la tinca- tinca is a fish of the lake. This is one of the typical dishes from the lake. And then, Bigoli con le aole. Bigoli is home-made pasta- it's like spaghetti, just a little thicker- and the aole is a small fish that you can find only here in the lake. Preparation for this dish starts one year before because you find these small fish in the month of June. You leave them buried in the sand for one week… five days… so they are really dry. Then you add a little bit of salt- fish and salt, fish and salt- cover and leave it in the cellar for one year. Total darkness, without light. Only then can you open it up. You take a little of this prepared fish, which has become almost like a sauce. You need to give it a clean because the smell is a bit too strong: and then you can cook it together with this spaghetti. Not all the restaurants offer this dish, but it's necessary to serve it in some places at least as it's something traditional from the Lake Garda region. Risotto con la tinca is really easy to make. This [Bigoli con le aole] is a little more difficult.
SNO man: And it's called… how do you pronounce it?
Paulo: Bigoli… con… aole - 'with aole, fish'. Aole is this small fish from the lake.
Paulo: The Italy that we can see right now, it's a really wonderful panorama, but we are also famous for our kitchen too.
Try one good restaurant during your stay here at Lake Garda, why not?
Restaurants around Lake Garda
Bardolino | Desenzano | Garda | Gardone Riviera | Malcesine | Peschiera | Riva | Gulf of Salo | Sirmione | Torbole | Torri | Lazise | Limone | Maderno