The best wine according to local Maitre d'
There's no doubt that this is one of the world's most prolific regions for wine production and the selection available is huge, but we found it works best to simply ask, because the people who live here are steeped in the knowledge and history of the grapes and viticulture of this part of Italy. From the young thirst-quenching Bardolino to the revered creations of the old masters, tell someone like Paolo what you like, or simply what you're eating, and they'll invariably give you a great steer.
Where to drink in Lake Garda
Because you won't visit a famous wine cellar every time you fancy a nice drop, we've recommended a small sample of just a few of the great bars around Lake Garda, where you can enjoy a glass of wine in the most beautiful surroundings. Here are great wine bars where you can sample exquisite drinks and take a bottle or two home with you:
For a sophisticated evening out, Lake Garda can offer you some excellent choices. La Cantina del Gato Borracho, situated in Limone, is a traditional restaurant with a great wine bar where you can sample some of the most delicious wine in the region. The wine bar is run by two brothers and has a great atmosphere. It is considered one of the most fashionable places to drink on the lake and is certainly worth a visit. Another great bar is Torre San Marco Piano Bar which is a refined and cultured venue offering an extensive wine list. The venue is located in the Gardone Rivera, overlooking the lake making it a great place to enjoy panoramic views of the Lake with a drink in your hand.
If you aren't satisfied with enjoying a quiet glass of wine with you meal then there are a number of more lively bars, including Hollywood Dance Club, where clubbers can attend all night parties in a sensational building located on the beach. This club is situated in Bardolino and is one of the most popular late night clubs on the lake. For another a great night out where you can enjoy a wonderful selection of Italian wine is Paparazzi Lounge Café. This is a trendy bar located in Lazise and offers you a taste of classy Italy, with good wine and a beautiful location.
Whether you are looking for an energetic night out or you want to appreciate an elegant evening with some of Italy's best wine then Lake Garda has something for you. A top tip for making the most of your evenings is to ask your rep for inspiration while in resort.
Learn a little about the spectacular local wines from our friend Paolo, and then choose where to sample them from the list of the best Lake Garda bars above, or at one of the great places to eat on our recommended restaurants page.
Most of the wine enjoyed in this region is locally produced and while there are many truly great little wine cellars that are well worth exploring, as Paulo explains, quite often the smallest are the best.
Paulo's recommendations on local wine below are in his video at the top of this page. If you meet him working in the Poiano Hotel or relaxing in a bar in Torri del Benaco, please say hello from SNO man and family.
What to drink in Lake Garda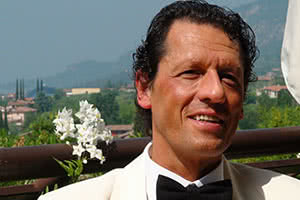 Paulo: The classic red wine from the lake is Bardolino, this is from the region of Bardolino. Even though it is a red wine, it is possible to enjoy it at a cooler temperature of about 12 degrees, making it a very good wine for summer. This wine is excellent with fish and meat and is great for a light meal. From our hill we have the Valpolicella wine which uses grape that are of a different length. This means that it is necessary to drink Bardolino wine whilst it is still young, so if it is produced in 2011 it should be drunk in 2012. The Valpolicella grapes and the Amarone grapes are the same only there is another system to arrive at the Amarone. The best known cellar is Allegrini, Bertani, Masi, Tommasi, there are so many so it is sometimes better to look for a smaller one.
SNO man: Small is beautiful? Do you think this is the same with the restaurants and the wine?
Paulo: Yes of course! And the wine that is the true diamond; these really are the true diamonds, Dal Forno and Quintarelli when you have a glass of this you are really in paradise.
For the white wine we have the Kostucha, Lugana and Soave. The Lugana is an aromatic white wine from the lake, from Peschiera. Then there is the Kostucha which is a little bit aromatic and is not too dry. The Soave is also a really, really good white wine, which you should drink cold while it is young. You can enjoy it with a really nice fish, maybe grill the fish, and enjoy a good glass of white wine.
Paulo: This is a really nice evening… or can be the start of a nice evening.
Bars around Lake Garda
Bardolino | Desenzano | Garda | Gardone Riviera | Malcesine | Peschiera | Riva | Gulf of Salo | Sirmione | Torbole | Torri | Lazise | Limone | Maderno