December Holidays in Lapland

December is arguably the best time to visit Lapland – whether you're squeezing in a week of festive magic before Christmas, staying in Santa's homeland over the big day itself or extending the cheer after spending Christmas at home. It's hard to think of a better place to see out the last days of December and welcome in the New Year, either.
December Events & Snow in Lapland
Activities and events in December
Of course you can't come to Lapland in December without a visit to Joulupukki (Santa Claus) and his reindeer - each resort has its own programme where you can meet the man himself and with most packages we can even organise it for you. There are just too many festive activities to choose from that all ages will love: reindeer and husky safaris through a Narnia-like wonderland are two of our favourites but the list is endless!
Skiing Conditions in December
You may have heard that Lapland is pitch black in December as there's little to no sunlight, but in fact the reflectivity of the snow casts a magical glow across the whole area and makes the days seem slightly brighter. Usually daylight levels in December can be around 4 hours a day (10am-2pm) but there are a few times a year when the sun doesn't peek above the horizon at all, which is known as the "polar night" – if you're here for this it really is an unforgettable experience. Lots of Lapland's pistes are floodlit which means you can still enjoy the great skiing conditions even if the natural light is limited. A benefit of the long nights in mid-winter is that the window of opportunity for seeing the Northern Lights is at its longest - the odds of seeing this unbelievable spectacle are in your favour as long as you can avoid those pesky clouds!
Temperatures can be extremely low at this time of year so make sure to bring lots of layers; quality outer gear, snow boots with good grip and good thermals are vital; sometimes these can be supplied with your holiday so check with us before you go. Fortunately the dry arctic air means that it doesn't tend to feel uncomfortably cold once you've wrapped up warm.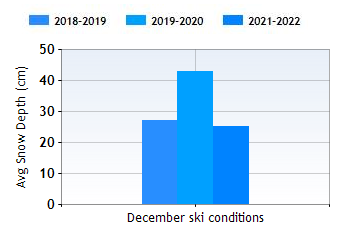 December Snow History
Top alt:720m
Average snow depth
December39cm
Bottom alt:200m
Average snow depth
December24cm
Resort alt:200m-720m
December ski rating

Read about Lapland ski holidays in January, February, March and April, or browse all December ski holidays worldwide.