March Holidays in Lapland

Lapland's temperatures start slowly rising in March, regularly staying above -10˚C (which is chilly but a lot warmer than the earlier months!). Thanks to these low temperatures, the ski slopes should be in perfect shape and you're likely to have far better conditions than you'd find in France, Austria and Italy. Since the snow doesn't tend to melt until May, you can avoid all the slushy and icy conditions that often come with late season skiing.
March Events & Snow in Lapland
Activities and events in March
If you didn't get to make it here over Christmas time, you can still have the winter wonderland experience here, with the snow-topped fells and forests being a world away from the UK at this time of year. A super way to enjoy the winter surroundings are husky rides, snowmobiling and snowshoeing or you could trick yourself into thinking it's still Christmas on a reindeer safari... there's even the chance to meet Saint Nick himself over in Rovaniemi, where the Santa Village is open all year.
Skiing Conditions in March
Whereas the earlier months only have a few hours of natural light, the days are a lot longer at this time of year (with an average daylight of 11 hours/day), which is perfect for getting the most out of your ski-pass and spending more time outdoors.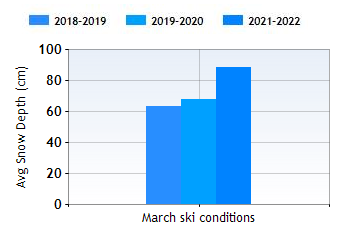 March Snow History
Top alt:720m
Average snow depth
March80cm
Bottom alt:200m
Average snow depth
March65cm
Resort alt:200m-720m
March ski rating

Read about Lapland ski holidays in December, January, February and April, or browse all March ski holidays worldwide.