April Holidays in Lapland

Nearing the end of Lapland's long winter, April is a super time to enjoy the best of both worlds – deep, crisp snow and long, bright days.
If you're planning a spring holiday but still want a winter wonderland, the snow is usually still hanging around at this time of year - in fact, April's often the month with the deepest cover! You can even include a trip to see Santa in Rovaniemi and you should be able to take reindeer and husky safaris nearer to your resort (you might even meet some baby reindeer or husky pups!).
April Events & Snow in Lapland
Activities and events in April
A big event to look out for is the Hetta Music Event in Levi, which is Europe's northernmost music festival.
Skiing Conditions in April
You should be able to ski in the sunshine without compromising on good snow conditions, as the temperatures are much milder than January and February but still low enough to prevent the snow from melting. In April, the days become longer than nights, with some days having an amazing 16 hours of daylight – plenty of time to enjoy all the region has to offer.
If you're here over Easter, this is a prime time for indulging and while Lapland may not be the Queen of chocolate like Switzerland, it offers up some seriously tasty treats, most of which involve some form of berry – blueberry pie is a bit of a national treasure here.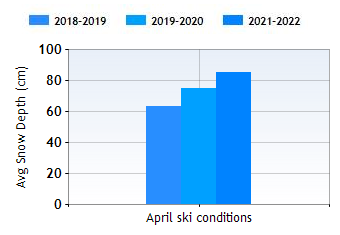 April Snow History
Top alt:720m
Average snow depth
April81cm
Bottom alt:200m
Average snow depth
April67cm
Resort alt:200m-720m
April ski rating

Read about Lapland ski holidays in December, January, February and March, or browse all April ski holidays worldwide.