January Holidays in Lapland

Escape your post-Christmas blues by taking a unforgettable trip to Lapland in January, where the amazing snow conditions, beautiful sunsets and scenery and a huge number of Santa experiences should restore your festive cheer in no time!
If you're here for the skiing, January is one of the coldest months in Lapland which usually means superb conditions on the slopes. These low temperatures create ideal dry powder conditions, without any of the ice or slush you get in some other resorts, so advanced skiers can really make the most of Lapland's fantastic off-piste.
January Events & Snow in Lapland
Activities and events in January
There are a whole host of other activities on offer if it's too chilly to stay outdoors like bowling, cinemas and ice-skating or you can huddle up in a warm restaurant with some tasty waffles or Finnish glögi. If you're feeling the Christmas blues and want some belated festive cheer, most resorts still offer the chance to meet Santa or you could spend an afternoon on a husky or reindeer safari for hours of wintery fun.
Skiing Conditions in January
Although this time of year often only has 4 or 5 hours of daylight, most pistes are floodlit, so you can ski a whole day with ease. You'll need some good thermals to stay warm as sometimes the temperatures can drop to as low as -3O°C, although once you're all layered up it shouldn't feel as cold as that. Thanks to the long nights, this is a super month to see the Northern Lights if the skies are clear enough.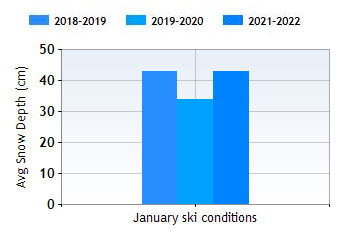 January Snow History
Top alt:720m
Average snow depth
January48cm
Bottom alt:200m
Average snow depth
January31cm
Resort alt:200m-720m
January ski rating

Read about Lapland ski holidays in December, February, March and April, or browse all January ski holidays worldwide.