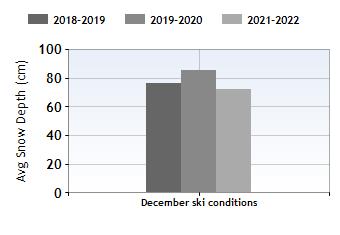 December ski deals Chamonix


Whether you want to start the season skiing one of the classics or spend the 'most wonderful time of the year' in the most wonderful resort in the Alps (well we think so!), Chamonix is awesome in December.
If you're looking to spend Christmas in a large, lively town that has bags of Christmas charm and loads of events/activities, Cham is almost unbeatable. The same can be said of the New Year – this is one of the top 10 places to spend New Year's Eve for a reason.
Chamonix historic average snow in December
December Snow History
Top alt:3,852m
Average snow depth
December123cm
Bottom alt:580m
Average snow depth
December32cm
Resort alt:1,035m
December ski rating

Read about Chamonix ski holidays in January, February, March and April, or browse all December ski holidays worldwide.
Skiing Conditions in December
In past years, there have been partial openings of the Grand Montets and Les Houches as early as November, so you can expect pretty amazing snow conditions once the season starts (usually mid December).
With 90% of the runs at Chamonix being at 2000 plus metres, there should always be a decent amount of snow to slide on. In recent years, the average depth of snow at the top of the piste - Aiguille du Midi - has been 123 cm (3842 metres) and 32 cm at the bottom in resort (1037 metres). To ensure there's a decent amount of snow on the lower runs, 93 snow cannons are used for snow making, covering around 23 km of terrain (15% of the ski area).
The average temperature at Chamonix in December is -1.6, though it will be colder on the higher slopes, so be sure to bring plenty of layers (and maybe a cheeky hipflask...) to keep warm. If it's particularly windy, you might want to stay on runs that are sheltered below the tree line and to get the best sunshine, stick to runs that face south like the ones at Les Houches. La Verte (don't be mistaken by the name!) is a long black run through the woods used for Worldcup downhill races - a blast for experts early in the season. Also in this area is Aillouds, a nice blue run that's bags of fun for intermediates. At Domaine de Balme, there are some beautiful gentle and wide green/blue runs (22 altogether) for beginners and anyone wanting to get their ski legs back at the start of the season. The slopes here are also sheltered by the trees, so you can avoid the worst of the wind and still have a good time. Chamonix's virtually limitless off piste terrain is held sacred by powder hounds the world over. The terrain around Le Tour is fantastic at the beginning of the season as it's less rocky than other off piste areas and doesn't need a huge amount of snow to be enjoyed. It's also an ideal introduction for off piste virgins.
Activities and events in December
Highlights from the start of the season in previous years are the wild parties at Le Verte and Moo bar; ice hockey (played annually at Chamonix); World Snowboard day (Chamonix gave birth to the snowboard) and the Nordic Monster Test (an event to mark the beginning of the season for cross-country skiing).
Cham is a winter wonderland come Christmas. The beautiful Savoyard buildings are decorated in fairy lights, and the atmosphere is jolly and true to the spirit of the season. Father Christmas, of course, makes several appearance every year – in recent years, he's visited town on 'Le Train du Pere Noel' and made a theatrical torch lit appearance on the slopes. Festive events and activities that have taken place in recent years include performances by the Chambelles choir, traditional Christmas markets and Christmas themed arts and crafts, "Les Petit VIP". New Year's Eve is a big deal in Chamonix with tons of bars and clubs putting on a whole host of parties. La Lucarne, MBC and Jekyll, for example, usually host really lively NYE parties. Just like the UK, many NYE events are ticket only affairs, so see what's happening this year and try to book tickets in advance if you can.
Widen your search: