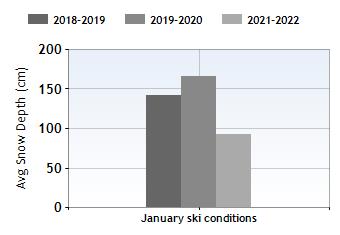 January ski deals Chamonix


January is usually a quiet time of year to ski in the Alps, though in recent years this is hasn't been the case in Chamonix! Russian Christmas is celebrated here from the beginning of the month to mid-January (Christmas day is the 7th of Jan in the Orthodox calendar), so if you missed out on a festive skiing holiday and want a second chance, Chamonix might be the answer.
The second half of January is usually a lot quieter, making it a great time to bag a bargain on a package holiday and enjoy relatively peaceful skiing. Simply put, the skiing at Cham is absolutely world-class and with the 117km ski area facing all directions, you're bound to find some great terrain to play on whatever the weather.
Chamonix historic average snow in January
January Snow History
Top alt:3,852m
Average snow depth
January214cm
Bottom alt:580m
Average snow depth
January52cm
Resort alt:1,035m
January ski rating

Read about Chamonix ski holidays in December, February, March and April, or browse all January ski holidays worldwide.
Skiing Conditions in January
90% of the terrain is higher than 2000m, so there should be loads of snow to slide on in January. The average snow depth in January is 214cm at Aiguille du Midi at the top of the piste (3842 metres) and 52cm at the town (1037 metres). This generally improves through the month – at the end of Jan/beginning of Feb, the depth of snow is nearly as good as March which tends to have the best conditions of the year.
There's no two ways about it - January is always going to be a chilly month in the Alps. The mercury hovers around -2.3 degrees for most of the month with average lows of -7 possible, so make sure you take advantage of the January sales and bring plenty of warm layers with you. If it's particularly windy, you'll find plenty of shelter lower down around Les Houches. Good runs for experts here are the confusingly named black, "La Verte". Two more great pistes at this time of year are Nants and Les Praz at the Brévent and Flégère areas respectively – both challenging, south facing, tree-lined runs that wind their way down to the bottom of the piste.
Although Cham is strongly associated with expert level skiing (this was the first place to host the Olympics), there's plenty of sheltered, intermediate/beginner terrain to enjoy in January, like the green runs around Domaine de Balme and the blue Aillouds at Les Houches. The Brévent and Flégère ski areas have sunny south facing slopes, which is ideal early on in the season when it's chilly. Confident intermediates should definitely check out reds like Lacheval and Crochutes at Flégère and Cornu and Charlanon at Brévent. If you're still a bit shaky on your skis, have a ski on blues like Sources and Blanchots at Brévent, as well as the gentle runs linking the ski areas.
Activities and events in January
As loads of Russian skiers come here to celebrate Russian Christmas on the 7th of January, you can expect there to be wild, champagne fuelled parties around town in the first half of the month.
Chamonix often hosts competitions of all kinds, including the FIS Grand Slalom International Championship and the Swatch Freeride World Tour in years gone by. The atmosphere is electric when there's a competition on, so check whether there's anything taking place this January (we hope so!).
Another highlight on the calendar in recent years has been the Nordic Festival which featured lots of fun activities such as skating, biathlon, snow shoeing and husky sledding.
Chamonix is a bustling mountain town with some of the best après ski in the Alps. Whether you like dancing on tables with your ski boots on or prefer a glass of wine in calm surroundings, you'll find a bar to suit you. Chambre 9 is great for party lovers and hosts live music events throughout the season while the Monkey bar is a local favorite and has a daily happy hour. We also love the Vagabond for a quiet drink in front of their log fire and spectacular views of the Mont Blanc massif.
Widen your search: