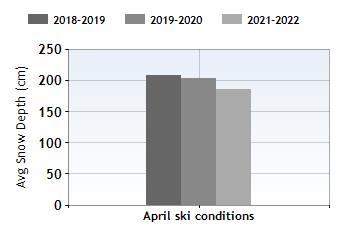 April ski deals Chamonix


Some say Chamonix's the most beautiful mountain town in the world (we don't disagree with them) and with great après bars and sun terraces (we like Vagabond's), April is the perfect time to sip on a beer and take in the spectacular views of the mountains, including the mighty Mont Blanc.
Slushy spring snow isn't much of a problem at Chamonix as most of the terrain is high altitude (60% above 2,500m), and the topography of the mountains (particularly Les Grand Montets) brings plenty of fresh snow throughout the season that's stays powdery on the cooler north facing slopes.
Chamonix historic average snow in April
April Snow History
Top alt:3,852m
Average snow depth
April375cm
Bottom alt:580m
Average snow depth
April24cm
Resort alt:1,035m
April ski rating

Read about Chamonix ski holidays in December, January, February and March, or browse all April ski holidays worldwide.
Skiing Conditions in April
April is naturally a warm month at Chamonix – at resort level (around 1000m), the average temperature is 5.9 degrees with possible highs of 11. Don't let the town's low altitude fool you - the many high altitude pistes at Chamonix come into their own in April.
One of the best places for fresh snow at this time of year is the Grand Montets with the runs at the top of the Montets lifts having a soaring altitude of 3275 metres. At this height, you can expect to find a whopping 375cm of packed powder snow in an average April. The black run from the top of Grand Montets, Point de vue, is usually excellent in April – you'll have some great, clear views of the adjacent Argentière Glacier and the snow should still be good nearer the bottom of the run as it's north facing and still pretty high up (near enough 2000 metres). In the same area, the snow quality is usually equally good on Pylônes (black) and Combes (red).
Brévent and Flégère are lower than Grand Montets at around 2,500 metres and as they face the south, they're best tackled first thing in the morning. That said, you'll be rewarded with a healthy sun tan and some of the best mountains views in the Alps, including the legendary Mont Blanc. This is a great area for intermediates to play in - Cornu and Charlanon, which are red runs, are both at the Brévent summit, so the snow should be good here in the morning.
Activities and events in April
If you love French culture, be sure to see whether the cultural festival, Montagne de Spectacles, is taking place this year. The event features theatrical performances, humour, dancing, classical music concerts and stand-up comedy.
The Spring Music Festival is also well worth a look. The event has been taking place in April since 2001, and has featured piano, clarinet and violin solo performances, chamber ensembles, orchestras and choirs.
If you fancy doing something a bit different, see whether the Paret and Wilderness Soiree is taking place this April. In the evening, you can enjoy snow walks and husky sledding followed by a dinner in a Mongolian Yourt (Mongolian food is great if you like eating lots of meat!).
Cham is great for Easter, especially if you're on holiday with the family. There's usually an Easter Carnival, which has loads of cool activities for kids like facing painting, chocolate eggs, Easter crafts and, of course, Easter egg hunts.
Widen your search: