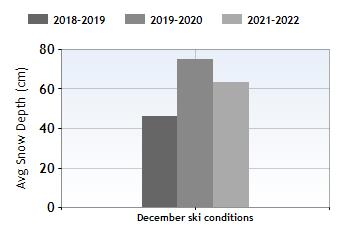 December ski deals Meribel


This attractive, down-to-earth resort is hugely popular for Brit ski holidays in December, with some excellent skiing (even at the start of the season), awesome après ski and a whole host of special events for Christmas and New Year's Eve.
The first week of the season is great if you want to get back on the slopes in a lively, friendly town. With bars like Rond Point and Folie Douce, seasonaires ready to party and a festive buzz in the lead up to Christmas, this is a super time to ski (and holidays tend to be cheaper too).
Meribel's homely, British vibe, chalet-style architecture and alpine forests make it a fantastic place to spend Christmas in wintery surroundings (when did we last have a white Christmas in the UK?!). The town is usually covered in fairy lights from the start of December and in past years, there's been a whole host of festive events and activities, including torch lit descents, visits by Father Christmas, carol concerts and copious amounts of vin-chaud.
Things are cranked up a notch or two come New Year's Eve, with a huge party on the Chaudanne piste that's usually hosted by France's equivalent of Radio One, NRJ. Recent years saw up to 25,000 people here!
Meribel historic average snow in December
December Snow History
Top alt:2,952m
Average snow depth
December85cm
Bottom alt:1,450m
Average snow depth
December38cm
Resort alt:1,500m
December ski rating

Read about Meribel ski holidays in January, February, March and April, or browse all December ski holidays worldwide.
Skiing Conditions in December
80% of Meribel's terrain is above 1,800 metres and with the highest run at 2952m you should find that majority of high runs have a decent amount of snow even in the first half of December. Historically, the weather in December has produced an average of 85cm at the top of the Mount du Vallon piste (2952 metres) and 38cm at the bottom (1,450 metres). Meribel has made huge investments in snowmaking to create the white stuff if need be; there are around 700 snow cannons which ensure that 55km of the terrain (36%), especially lower down, has a decent coverage of snow.
Average temperatures are 1.4 degrees with highs of 5.5 and lows of -2.6. Should the weather turn nasty, there are plenty of runs below the tree line to shelter in. The majority of runs face south, which is great for early season skiing as it ensures they receive a decent amount of sunshine in the depths of winter. If it's windy or visibility is poor, the long greens Blanchot and Forèt gently wind their way through the woods above the resort, providing sanctuary from the worst of the winter weather.
There are absolutely loads of blue and red runs to keep intermediates entertained, which are also great for advanced skiers who need a warm-up after a snowless summer. Red runs like Raffort offer a long, cruisey blast through the trees in poor weather conditions. Midway down Saulire, Manduit is another red with sheltered tree skiing. When conditions are clear, try and ski it all the way from the summit down to Chaudanne. The Saulire sector is also home to an extensive network of high altitude (starting at 2738 metres) reds and blues that should have some fresh snow in December.
There's plenty of terrain at Meribel, and indeed in the Three Valleys as a whole, to keep experts entertained. The classic black run, Face, was specially made for the 1992 Olympics and is definitely something you should give a go (best when it's just been groomed). In the Saulire sector, Sanglier and Grande Rosière, are 2 black runs at high altitudes which are pretty much snow sure early on in December. If you want to ski even higher, you can quite easily go to Val Thorens (you'll need the Three Valleys pass) which has loads of blacks, reds and blues to choose from.
Activities and events in December
If you like to party as hard as you ski, Meribel is unlikely to disappoint. Early on in the season, the optimism is infectious and the fresh-faced seasonaires throw on some memorable parties all over town (check out Jack's Bar for the wildest parties). Be sure to see whether Ibiza Rocks the Snow is happening this year. This event features some of the hottest live acts and DJs (Zane Lowe, Dorley, Anushka in recent years), street feasts, DJ battles and pool parties. To celebrate the art of sliding sideways, check whether there are any special events taking place on World Snowboard Day this December.
The quaint, traditional chalets and wooded surroundings make Meribel a magical place to spend Christmas. On Christmas Eve in previous years, Father Christmas has put in a theatrical appearance on his sleigh and there have been torch-lit descents, carols on the terrace at Jack's bar/outside the tourist office (accompanied by a decent supply of vin chaud and roasted chestnuts) and a Christmas Mass on the Olympic Ice-Rink.
True to the resort's ability to throw on some amazing parties, the NYE party at Meribel is an unmissable event. Held every year below the slopes at La Chaudanne, it's seen a good 25,000 revellers in recent years and is usually hosted by France's answer to Radio One, NRJ. There's always been a spectacular firework display on the stroke of midnight and you can dance on the snow until the early hours.
Widen your search: