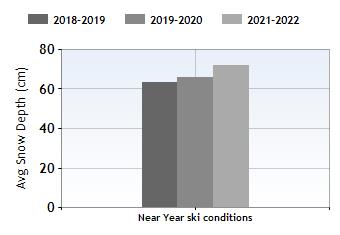 Meribel New Year holidays


If you're looking for a resort where you can see in the New Year while partying as hard as you ski, book a ski holiday in Meribel. After spectacular torch lit descents on New Year's Eve in Meribel, the Chaudanne area becomes a big nightclub with a dance floor on the piste. There's a huge firework display at midnight and a bus service usually runs into the early hours.
With its position in the heart of the enormous Three Valleys ski area, Meribel provides access to 600km of pistes, offering an extensive ski area with varied terrain for New Year skiing to suit every skier and snowboarder.
Whether you are on a group ski holiday at new year or are making the most of the school holidays to enjoy a family ski holiday, we've got a great range of accommodation to suit you. Have a browse through our Meribel ski deals for new years and get in touch today.
New Year snow and skiing conditions in Meribel
Near Year Snow History
Top alt:2,952m
Average snow depth
Near Year88cm
Bottom alt:1,450m
Average snow depth
Near Year46cm
Resort alt:1,500m
Near Year ski rating

Widen your search: