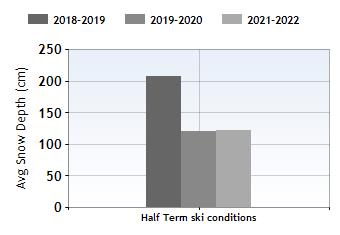 Les Orres Half Term holidays


Les Orres has been referred to by those who holiday there as a 'hidden gem' as it is not yet a hugely popular resort with the Brits. Couple this with the fact that the French stagger their holidays, so everyone can ski and resorts don't become too crowded, and Les Orres suddenly seems like a really great choice for families wanting a quiet resort, or groups who don't want to ski in a very busy area.
Being high in altitude, with runs easily surpassing the 2000m mark, the snow is best in the resort and the surrounding areas mid-season. The area has 40km of cross country ski trails, so anyone wanting to make the most of mid-season snowfall should definitely check these out. The resort also offers childcare with Club Piou-Piou in 1650 and La Farandole in 1800 and ski lessons with either the ESF or Ozone, so parents can go exploring knowing their children are in safe hands.
With Les Orres awarded the Famille Plus label by the French tourist board for being one of the best family resorts in the country, there is always something to get involved with over the holidays and throughout the whole ski season. Just some of the events hosted over the years include; 3 day mini festival in the snow park with DJ's, shows and graffiti competitions, theatre productions, ice-rink discos, slalom competitions and fireworks displays. Check with the tourist office when you arrive to make sure you don't miss out on any of the action.
Our packages with flights and transfers included are terrific for those seeking an easy life, self-drive deals are available for those who love a road trip and you can also book accommodation only if you prefer to sort travel independently.
February Half Term snow & skiing conditions in Les Orres
Half Term Snow History
Top alt:2720m
Average snow depth
Half Term193cm
Bottom alt:1550m
Average snow depth
Half Term105cm
Resort alt:1650m & 1800m
Half Term ski rating

Widen your search: