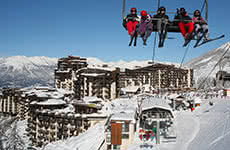 Set in the middle of a forest with spectacular views over the Embrun Valley, Les Orres is split into two different villages which are identified by their altitudes, Less Orres 1650 and Les Orres 1800. The presence of two villages within one resort gives a huge choice in terms of atmosphere, accommodation and facilities, and free transport links between the two lets you explore the shops, restaurants and activities as much or as little as you like. 1800 is a new purpose built village, established in 2008 and h...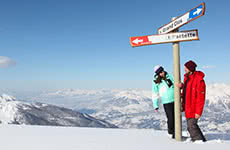 The skiing is best for beginners and intermediates, as it offers a huge variety of green, blue and red runs. Children are well provided for by the friendly and super experienced team at Club Piou-Piou in 1650 and La Farandole in 1800. Beginners have a number of gentle greens - the Fountaine on the Bois Mean side runs right through both villages and connects with the green Eidelweiss. Once you've conquered these, take the Champs Lacas lift up for some high altitude greens and blues, like the Silene (the views ar...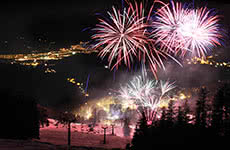 Whilst Les Orres is great for 'things to do' where events and activities are concerned, the après scene is pretty quiet. That said, as is the case for most things in life, if you want a party, you can definitely find it. 1800 is the quieter village of the two, but if you want a good meal, La Bouscatiere specialises in typical Savoyard dishes like tartiflette and raclette - their cheese fondue is a great choice. If cheese isn't your thing, they also offer up a number of French delicacies, including foie gr...