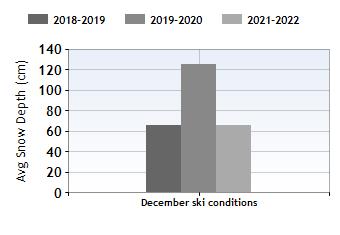 December ski deals Verbier


The early season atmosphere here is infectiously optimistic and with the arrival of the seasonaires, mid-December can be a really fun time to visit Verbier (Mont-Fort and Medran are two reliable bets for some crazy parties). Before the festive season kicks in, holidays in this uber posh resort tend to be cheaper too...
Verbier is among the most beautiful and exclusive resorts in the Alps. Its chocolate box chalets have bags of Swiss character and the surroundings are jaw dropping, making it a spectacular place to spend a chic Christmas in the mountains.
Home to some of the best après in the Alps, New Year's in Verbier is sensational. With exclusive clubs and bars like the Farm and W Verbier putting on their own parties and gourmet eateries like La Grange and Cordèe creating special menus, you'll struggle to find somewhere more stylish to see in the New Year.
Verbier historic average snow in December
December Snow History
Top alt:3,330m
Average snow depth
December118cm
Bottom alt:1,500m
Average snow depth
December54cm
Resort alt:1,500m
December ski rating

Read about Verbier ski holidays in January, February, March and April, or browse all December ski holidays worldwide.
Skiing Conditions in December
At resort level in December, Verbier is a tiny bit warmer than many of the French resorts over the border with an average of 0.5 degrees, highs of 4.9 and lows of -2.5. With much of the ski area at high altitudes, it will definitely be colder than this up on the slopes, so make sure you bring plenty of warm clothes. High altitudes definitely have their advantages – at the top of the Mont-fort piste (3300 metres), you can expect there to be an average of 118 cm of snow whilst there is an average depth of 54cm at resort level (1500 metres), which is still pretty respectable for the beginning of the season. If the lower slopes need a bit of help, there are 50 snow cannons, which cover 4.2 km or 40% of the Verbier pistes. That might sound like a low figure, but you have to bear in mind that there's an extensive network of itinerary or yellow runs here which are not groomed (though they are patrolled and monitored for avalanche risks).
If visibility is low or it's particularly windy, you'll want to take shelter in treed terrain lower down the mountain. Vallon D'arby and Bruson have some fantastic tree skiing with the main attractions for experts being the non-groomed yellow runs. Be sure to check for avalanche risks (yellow runs are not avalanche controlled but will be closed if risk is high) and take a guide with you if you don't know the area very well. Bruson does have some marked blue, red and black runs, providing a bit of variety for those who prefer to stay on piste. It also tends to be pretty quiet here and there are some great places in the Brunson hamlet, such as La Pasay, to get a cheap, tasty lunch.
For intermediates, the Savoleyres area is the place to head. The sunny south facing slopes here are ideal when it's particularly cold. The tree runs in the same sector (leading down to La Tzoumasz) are sheltered and therefore a good bet if there's poor visibility.
Activities and events in December
Verbier is a premiere destination for competitions of all kinds from freeriding to alpine skiing. When there's a competition in town, the atmosphere is buzzing and bars like Fleur de House Pub Mont-fort can be even livelier than usual. If you're inspired by the pros, Verbier usually holds a Giant Slalom competition in December (The Philippe Roux Challenge) which is open to everyone if you want to push your technique to its limits…
Verbier is a fabulous place to spend Christmas, particularly for couples, groups and solo travellers. The traditional Swiss architecture of the town oozes alpine charm and there are usually loads of festive things to get you into the spirit of the season, from visits by Father Christmas (often accompanied with a decent supply of mulled wine) to festive markets and carol services.
If you fancy a break from the skiing or there are non-skiers with you, Verbier puts on plenty of fun winter activities. The 10km toboggan run, the longest in Switzerland, is heaps of fun.
The après scene here is loads of fun and ranges from the exclusive to the more down to earth. At the beginning of the season, with the arrival of the seasonaires you can expect some wild parties at Fleur de House, Pub Mont-fort and Medran. The Black Weekend Tour usually rolls into town for three days prior to Christmas – great for those who love dance music and like to party almost right around the clock. New Year's Eve is an absolute blast too with exclusive Michelin starred meals and dancing at the hottest new venue in town, W Verbier, and DJ sets at bars like the T and Loft in previous years.
Widen your search: