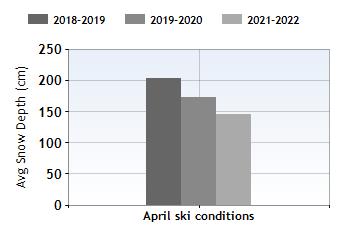 April ski deals Verbier


April isn't the best time to ski if you want to fully appreciate Verbier's legendary off piste, but if you're here for the sunshine, après ski and awesome scenery, it's terrific. Just because the off piste might not be in top shape doesn't mean you'll have a week off the slopes - staying in Verbier gives you access to the Mont Fort glacier where a top altitude of 3,300m has the potential for snow sure, expert-level skiing, even this late in the season.
Other benefits of skiing in April are the possibility of finding a great deal on our Verbier package holidays for off-peak weeks, crowd-free slopes and the chance to see some absolutely spectacular panoramas of the Swiss Alps... not to mention topping up that all-important goggle tan on long afternoons of après ski in bars like the Carlsberg and Mont Fort.
Verbier historic average snow in April
April Snow History
Top alt:3,330m
Average snow depth
April233cm
Bottom alt:1,500m
Average snow depth
April115cm
Resort alt:1,500m
April ski rating

Read about Verbier ski holidays in December, January, February and March, or browse all April ski holidays worldwide.
Skiing Conditions in April
April is not known for having fantastic snow, though you should still find a decent amount of it on the top slopes– historically, there has been an average of 233cm of snow on the highest piste (Mont Fort - 3300m) and 115cm at the bottom (1500m). It's usually lovely and warm at Verbier in April, with average temperatures of 9.6 degrees to be expected at resort level. These warm temperatures generally result in many of the lower, south facing slopes being closed (especially Brunson, Savoleyres and La Tzoumaz) in the first week of April.
In April, it's best to stick to north facing slopes as these will be shaded from the sunshine, and the snow is less likely to be slushy (especially in the mornings). The huge bowl at Col des Mines has a north easterly orientation and some challengingly steep runs for experts. Mont Fort's high altitude, glacial runs are snow sure throughout the season. Hop on the gondola rail and then take the chairlift over to La Chaux before taking the Col des Gentianes cable to the summit. From here, you can tackle the classic black run, Mont-fort, or try the steep, mogulled runs in the Tortin snow bowl. Regardless of ability, everyone should take the lift to the Mont Fort summit in clear weather to enjoy the panoramic views over Val de Bagnes, the Matterhorn, Dents du Midi and Mont Blanc.
Intermediates will enjoy the reds down from Col des Gentianes to Fontanet, which are snow sure at 2950 metres. There's a fairly extensive network of reds between Fontanet, Attelas and Les Ruinettes and with altitudes ranging between 2700 to 2200 metres, you're likely to find a decent amount of snow in these areas.
Activities and events in April
April is, without a doubt, a very relaxing month to go skiing in and with warm, clear skies it's a perfect month to fully enjoy an après drink or three at a bar with a sun terrace. Three super places for après ski are Pub Mont-fort (with daily happy hours and BBQ's), Chalet Carlsberg (a blast when a competition is on) and Fer a Chevel (great for pizzas and its friendly, international crowd).
Verbier usually hosts competitions throughout the season. In April in years gone by, it's hosted the High Five by Carlsberg competition, featuring events such as giant slalom, flying kilometre, ski cross and trampoline. The event is open to amateurs, so you have a chance to see how good you really are and compete against the pros. During the competition, Chalet Carlsberg is turned into "the highest dance floor in the world" and usually puts on an assortment of live music concerts, DJ sets and more.
Whether you're an expert or not, take the cable car up to the top of the glacier because the views from here are amazing – look out for iconic mountains like the Matterhorn and Mont Blanc.
Verbier usually has special night skiing packages where you can enjoy Valaisian cuisine (famous for its plates of assorted paper thin meats) at the Cristal Restaurant followed by an unforgettable torch lit descent back down to the resort.
Widen your search: