New Year in Lapland


Spend Christmas at home before extending the festivities in the most Christmassy place on the planet and start off the year by ticking the Lapland experience off your bucket list...
There's no better way to beat down the post-Christmas blues than with a belated visit to Santa or a ride with his reindeer and huskies. For a bit of local culture, traditional Sami events include the Arctic Circle Ceremony, tin melting and fortune telling. Most resorts celebrate with firework displays, gala dinners and concerts too; Levi and Ruka usually have the liveliest party scene. If you'd rather escape the fireworks in the village and head out into the wilderness, this is also a super time to see the Northern Lights – Mother Nature's very own firework display.
This is one of the coldest times of the year, so ask Father Christmas to deliver lots of thermals and warm layers before you jet off! Often snowsuits can be included in our holiday packages, which leaves room in the suitcase for any Christmas presents the kids can't bear to part with. It's this chilly climate we have to thank for the fantastic skiing conditions over here – while some resorts in the Alps have only had a few weeks of snow, parts of Lapland get snow as early as the end of August!
With only about 4-5 hours of daylight, much of the day is bathed in exquisite sunrise and sunset – this twilight time of the year is often considered one of the most beautiful times to visit and the many floodlights on the pistes means that none of your skiing time is compromised.
New Year snow and skiing conditions in Lapland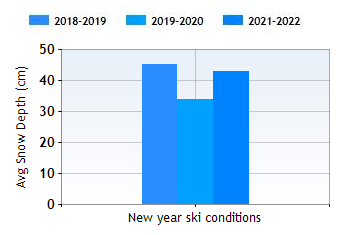 December Snow History
Top alt:720m
Average snow depth
December49cm
Bottom alt:200m
Average snow depth
December32cm
Resort alt:200m-720m
December ski rating