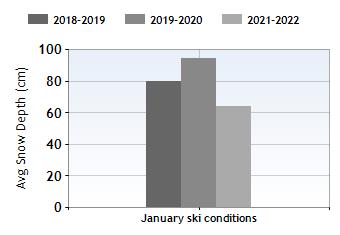 January ski deals Courchevel


Courchevel is arguably the most exclusive resort in the French Alps and January tends to be one of the cheapest months to ski, meaning you can get the world class Courchevel experience without the usual pricetag. There's usually a good amount of snow cover here come January, and the snowmaking is state of the art if any slopes need topping up.
December has come and gone but if you didn't get the chance to enjoy a festive skiing holiday, you have a second chance in Courchevel as the resort celebrates Russian Christmas over the first half of January. 1850 is usually packed with Russian's looking to splash the cash and party while the other villages like 1650 are generally more laid-back and less crowded.
Courchevel historic average snow in January
January Snow History
Top alt:2,738m
Average snow depth
January96cm
Bottom alt:1,100m
Average snow depth
January63cm
Resort alt:1,850m
January ski rating

Read about Courchevel ski holidays in December, February, March and April, or browse all January ski holidays worldwide.
Skiing Conditions in January
It's pretty clear that some serious money is invested into the skiing at Courchevel. With superior grooming, a first-rate lift system and lots of snow guns (600 or so) used to cover 42% of the slopes, the resort is one of the best in the Alps for consistency, particularly for beginners and intermediates. On top of this, of all the resorts in the Three Valleys, Courchevel statistically has some of the most reliable snow falls throughout the season, with an average snow depth in January of 63cm at the bottom of the piste and 96cm at the top. The temperature in January hovers just above freezing most of the time, with average highs of 5 degrees and lows of minus 4, so make sure you bring plenty of layers to keep yourself warm!
Courchevel is the resort of choice for rich Russians over the Russian Christmas, so unlike many other resorts in the Alps, you can expect it to be buzzing here during the fast half of January. This shouldn't be much of a problem as the lift system is fantastic – you will rarely have to queue even when it's particularly busy. If you have the 3 Valleys pass, you can escape the crowds further afield.
If the wind is a bit strong on a particular day, there's plenty of terrain below the tree line where you can shelter. For beginners and intermediates visiting in January, we like the slopes above Courchevel 1650 and 1850. Highlights above 1650 include nice greens like Pyramides and Grandes Bosses while blues like Pralong and Biollay above 1850 are well worth a go if you're a bit more confident. If you're an expert, there's plenty of sheltered and challenging terrain through the woods down to Le Praz (be sure to check out Jockeys and Jean Blanc).
Activities and events in January
If you get bored easily, there are plenty of winter activities going on at Courchevel including sledging, snowmobiling, husky sledding, cross country skiing, ice climbing, hand gliding and air boarding (like body boarding on snow!).
The bars here can be pretty lively, especially during Russian Christmas, which is celebrated every year on the 7th of January. If you've got a case of the January blues and want to celebrate Christmas again, you'll love the festive vibes at exclusive clubs like Le Coyette, La Grange or Les Caves.
Courchevel puts on a whole host of Russian Christmas events, which in previous years has included torch lit descents, visits by Father Christmas, Russian choir concerts and slope side dance parties. There's usually plenty going on that isn't related to the Russian Christmas too, which has included numerous art exhibitions and the BMW Polo Masters (the highest snow polo tournament in the world) in recent years.
Widen your search: