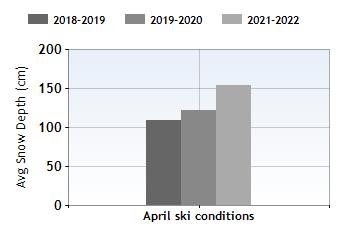 April ski deals Courchevel


With longer days, clearer skies (look out for Mont Blanc), warmer temperatures and some potentially great skiing even this late in the season, April is a fantastic time to visit Courchevel. If want to ski during the Easter holidays, there's usually a lot to do besides skiing, including Easter themed events and activities or just a nice cool beer and sunbathing at Bel Air.
With mild conditions and child-friendly skiing, the school holiday weeks are naturally busier than the rest of the month, although you shouldn't have to queue too long for the Saulire cable car as the lifts here are very efficient. If you're not restricted by term time, you might be able to find a great deal at this classy, well-equipped resort and enjoy some crowd-free spring skiing.
Courchevel historic average snow in April
April Snow History
Top alt:2,738m
Average snow depth
April164cm
Bottom alt:1,100m
Average snow depth
April92cm
Resort alt:1,850m
April ski rating

Read about Courchevel ski holidays in December, January, February and March, or browse all April ski holidays worldwide.
Skiing Conditions in April
With warm temperatures (average of 8.3 degrees at 1850) combined with the sunny, clear skies of spring, April's a fantastic time to explore Courchevel. A lot of visitors take long lunch breaks to soak up the magnificent views (Mount Blanc can be seen on a clear day) as well as some much needed rays that we're deprived of in the long British winter.
It's not a month known for its incredible snow, but April has historically been a terrific month in terms of the skiing at Courchevel, with the tourist office known to boast "guaranteed snow" until the end of the month. This is certainly not all talk: snow depth is historically an average of 164cm at the top of the piste and 92cm lower down, and with the majority of the slopes facing the north, the snow is generally kept in good condition.
In the Three Valleys, which is the largest ski area in the world, 85% of the terrain is above 1800 metres and there are 25 accessible summits (including 10 above 2500 metres) as well as four equipped glaciers. The Saulire summit (2700 metres) and the Peclet Glacier, for example, are easily accessible from Courchevel and you should find some awesome snow here even at the tail end of April.
With such a huge variety of terrain, it's difficult to know where to start when it comes to where to ski. For experts, we like the wide Grand Couloir which is near the Saulire cable-car. First thing in the morning when it's relatively empty and well-groomed, the Combe de la Saulire is a favourite for intermediate skiers.
Activities and events in April
There are usually plenty of exciting events taking place at Courchevel in April. Events this time of year in the past include the Snow & Fire Ski Show - a spectacular show combining demonstrations of various skiing/board disciplines and fireworks. If you're here over the Easter holidays, they usually have an Easter party and the obligatory Easter egg hunt. The 3 Valleys Enduro has also taken place at Courchevel in years gone by, which is the biggest gathering of amateur skiers in the world and offers a range of challenges in three categories: amateurs, professionals and families. See if this is still happening this year (we hope so!).
Widen your search: