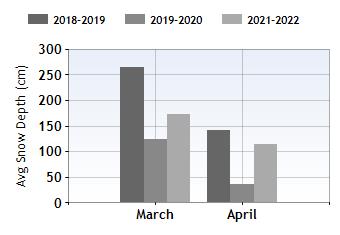 St Wolfgang Easter holidays


Celebrate the Austrian way with an Easter ski holiday in St. Wolfgang and split your time between the lake and the slopes. As the weather warms, it's always a good idea to pick an Easter ski resort that has more going on than just the skiing – so if the slopes do become slushy there's still stuff to do. As an old lakeside town with its own bunch of activities on top of access to two ski areas, St Wolfgang is a safe bet for a great week, whether on the slopes, off the slopes or a bit of both.
The two closest ski areas are within a 45 minute – 1.5 hour drive and they often still have snow cover at this time of year. If you drive for a little bit longer (about an hour and 40 minutes from St Wolfgang) you'll reach the Dachstein glacier, which at 2700m should easily have the best conditions in the area. The clear spring weather really lets you appreciate the scenery here - a walk over the Dachstein suspension bridge, "Stairway to nowhere", at the wall of the Dachstein Massif is a must! Hopefully the tourist office are still doing their guide-led ski days of varying difficulty across the glacier. Our personal favourite has to be the 'Dachstein Crossing', the awesome 25km route that takes you from the mountain summit down to Hallstatt Lake, a total 2200m descent! There's also plenty for non-skiers to get involved with at the glacier. Head inside to discover the eerie 'Dachstein Ice Palace' packed full of awesome ice sculptures, but make sure to bring a coat –it gets chilly in there!
St. Wolfgang is a sleepy town in the winter months, but starts waking up with the coming of spring. Check out the Abarena Theme Park, an all-weather leisure park with model exhibitions; indoor and outdoor activities such as a jet flight simulator, electric kart course and giant tube slide. Mid-April also sees the re-opening lake ferry, Schafberg Bahn and the St. Gilgen gondola giving the full Wolfgangsee experience. After all that excitement, why not take a break. The Seehang has comfy deckchairs with a great lakeside view to help you relax while taking in the sights and enjoying a well-deserved drink.
Easter snow and skiing conditions in St Wolfgang
Easter Snow History
Top alt:1500m
Average snow depth
Mar/Apr204cm/107cm
Bottom alt:767m
Average snow depth
Mar/Apr169cm/85cm
Resort alt:548m
Easter ski rating

Widen your search: