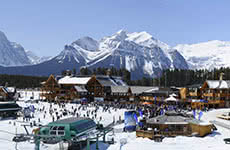 Lying at 1646 metres altitude in the Alberta region of the Canadian Rockies, Lake Louise has been photographed to within an inch of its existence, and still manages to delight the eyes. Literally turquoise in summer and overlooked by the glistening Victoria glacier (named after our great former monarch, no less), even the shakiest of photographers will come away with prize shots after a trip here. In the winter, the lake freezes over for the season, and the ice-skating opportunities abound under the watch of the...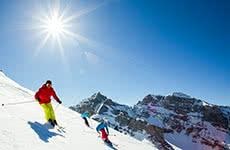 The ski area is one of the biggest in the continent, covering 4200 acres and including 145 runs over 4 mountain faces, but up your ticket to the SkiBig3 pass and you'll have a whopping 8000 acres to sink your teeth into. The Minute Maid Adventure Park and Sunny beginner's area provide the perfect introduction to the snow, with 3 magic carpets to keep things simple. Wiwaxy is run specifically for beginners, where you can practice in peace and quiet. Thanks to the way the ski area's been designed, you'll find...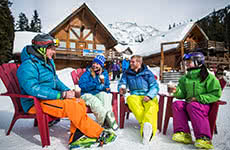 Life moves at a slower pace at Lake Louise, where most of the activity takes place in the resort hotels. The undisputed star of the show is the Fairmont Chateau, where you could arguably spend a week holed up in swish bars and eateries looking out over the lake from on high. For guests and passers-through alike, afternoon tea in the hotel's Lakeview lounge makes for the perfect end to the day, while the Glacier Saloon (a ridiculously elegant pub and sports bar) will set you up with local ales and craft beers. F...