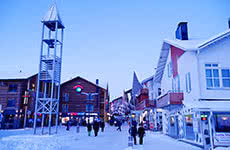 Levi has worked up quite a reputation over the years as Finland's largest and most popular ski resort – drawing in hordes of mountain-sport enthusiasts and fans of all things festive from the world over. Visitors can live out fairy tale experiences including meetings with Santa, sights of the elusive Northern Lights and riding with huskies… not forgetting skiing on the impressive 'Levitunturi' network of expertly-groomed pistes that are more often than not dusted with freshly-fallen snow. Though seemingl...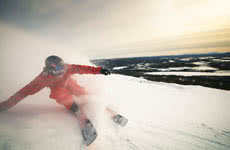 Etelärinteet is the name of the area to the south, Itärinteet is its eastern ridge and there's north-facing Koillisrinteet. Eturinteet is where you'll find the front pistes, and the snowparks and World Cup run are also on the west ridge. Lastenmaa Kids' Land by Zero Point is the perfect place to learn; there's a fantastic wide run amongst the trees. Beginners are best accommodated on the eastern and southern areas of the Levitunturi, where there are some wonderful steady blues to the bottom of the main ...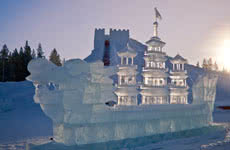 Lapland's ski resorts are iconic for their mammoth scene of winter wonderland activities – with some of the world's most enchanting experiences all close to hand. The area is best known as the home of Father Christmas, and there's no shortage of ways to meet the man himself. Levi is just 15 minutes from Santa's cabin and workshop - You can travel by coach but we can't stress enough the charm of snowmobiling through the forest until you see the warm glow of the hut appear in the distance... With darkness ...