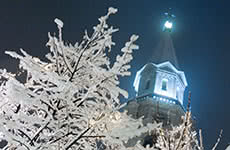 Nicknamed the 'Queen of the Dolomites', Cortina d'Ampezzo gained its reputation as one of Europe's finest ski resorts after hosting the 1956 Winter Olympics. Well-heeled Italians and Hollywood stars like Audrey Hepburn flocked here in the '60s and '70s, and it remains a stylish resort to this day with elegant boutiques and chic cafes lining the cobbled pedestrian high street. You may recognise the area from films such as Cliffhanger and the chase scene in Bond film, For Your Eyes Only, where Roger Moore famou...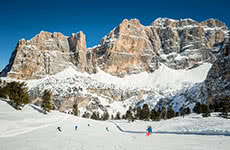 There are 3 ski areas directly accessible from Cortina d'Ampezzo itself: Cristallo, Tofana and Faloria. Faloria and Cristallo are on the eastern side of town, while Tofana is on the opposite side. You need to take the bus to get between them. There's plenty to challenge even expert skiers in this area alone, but if you start with the local pass, you can always upgrade to the Superski pass if you decide you want to head further afield. The Guargnè/Mietres section is a small area for learners and children to...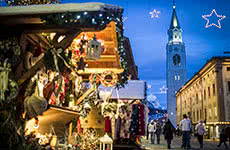 Everything starts up on the mountain where you'll find some lovely huts for lunch. Rifugio does exceptionally good bombardinos, a local speciality drink. It's usually made up of a mix of Advocaat and brandy. Have it served hot with whipped cream if you fancy being indulgent. Our favourite shop in town isn't one of the fancy fur boutiques but actually the Pasticceria (bakery/patisserie) Alvera. You'll find it on the edge of the square at the top of the pedestrian street. The mini tarts and cakes are to die...