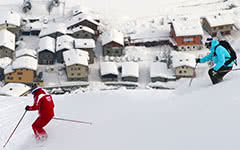 Together with Saint Martin De Belleville and Val Thorens, Les Menuires (say it Lay-Men-Weer) is part of the Vallée des Belleville and probably the cheapest base for the glorious skiing of the 3 Valleys. It's true, this purpose-built resort's more focussed on the practical than the aesthetic… but it's made a valiant effort to shrug off the 'ugly duckling' rep - fitting a bit of a facelift in time for the Albertville Olympics. Split into various 'quarters' (linked by walking paths, ski runs, shuttle...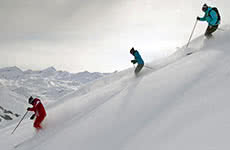 The resort has aimed to provide a wide variety for all abilities – and the proof is in the pudding! The opportunities are outstanding for skiers and snowboarders, but you would expect no less considering it is a part of the largest ski area in the world. Novices will find five free lifts either end of the resort for getting to grips on gentle little green runs, and longer greens such as La Violette at the top of the gondola from La Croisette. With a healthy mix of reds and blue runs covering the vast major...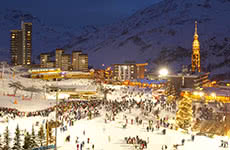 End a day of skiing on the large sun terrace in L'Oisans and sit down in the sunshine with a jug of beer. Kick back with a cocktail or shoot some pool in the cosy Piano Bar Le Kube. Sports games are known to be aired on the TVs in venues like L'Original Café. If you ski over to Val Thorens be sure to go for some drinks at the famous Folie Douce. Those looking for some late night action have two night clubs to choose between; Le New Pop in La Croisette or Le Leeberty in Les Bruyères - an intimate underground ...