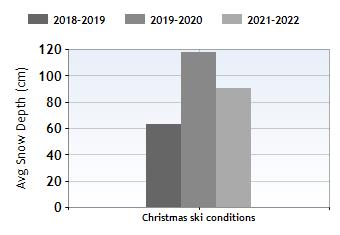 Nendaz Christmas holidays


This quiet resort usually has a wonderfully authentic festive feel at Christmastime, as the intimate, historic village and locals gear up for a week of traditional Swiss celebrations. With a large number of runs above 2000m and facing all directions, snow conditions are usually very good, which is backed up by snow cannons covering 35 km of slopes and access to the Mont Fort glacier at 3330m.
In past years, the tourist office has put on several special events including a torch lit descent on Christmas Day followed by a paragliding Santa arriving laden with presents for the children and hot chocolate, tea and vin chaud for the older ones! Other activities have included clown and magic shows and a snowshoe hike with a delicious cheese fondue for some reward and recovery afterwards. To help get into the Christmas spirit you can go ice skating, tobogganing and dog sledding or head to a carol concert or one of the many church services. Non-skiers can also treat themselves to a Christmas pampering session at the celebrated Hotel Nendaz 4 Valleys spa.
Even during peak holidays like Christmas, the resort tends to be less busy (and always less expensive!) than Verbier, making it the ideal destination for a relaxing break away from the crowds.
Christmas snow and skiing conditions in Nendaz
Christmas Snow History
Top alt:3300m
Average snow depth
Christmas124cm
Bottom alt:1250m
Average snow depth
Christmas56cm
Resort alt:1400m
Christmas ski rating

Widen your search: