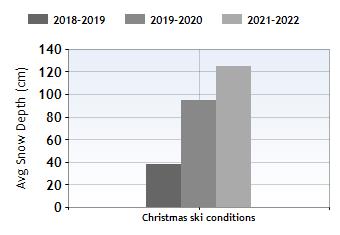 Les Carroz Christmas holidays


Ski the awesome Grand Massif by day then "Have yourself a merry little Christmas"in the village during a week in Les Carroz. With snow conditions being generally very good in December and the 265km Grand Massif a lift away, chances are, you won't just be dreaming of a white one here. Even the Grinch would crack a smile on tree-lined runs (like Combe and Sarlotte) on the way back to the old farmhouses in the village…
The locals are known to make a spectacle of their favourite holiday with the likes of torch-lit descents, firework displays, Christmas markets, live music and lantern releases. Look out, also, for the traditional appearance of Santa on Christmas Eve for a firework filled "au revoir!" from the square before he sets off on his round-the-world tour.
The Christmas spirit flows through all corners of the Grand Massif and its 4 other resorts; venture forth to Samoens, where the marketplace is usually transformed into its very own Christmas Village. If it's anything like recent years, children can chase Father Christmas' sleigh or listen mesmerised to the storyteller, while parents warm up with some "mmm"worthy chocolat chaud and doughnuts.
Unlike the Brits, the French enjoy their Christmas dinner on the 24th rather than the 25th, so if you're planning on dining out, take heed and book your tables well in advance that night. La Croix de Savoie, 15 minutes out of the centre, usually features a gourmet "Fairy Christmas" menu, while Aux Petits Oignons on the square is a homely spot for your Savoyard meals and will lead right out onto the festivities.
Christmas snow and skiing conditions in Les Carroz
Christmas Snow History
Top alt:2500m
Average snow depth
Christmas133cm
Bottom alt:1140m
Average snow depth
Christmas38cm
Resort alt:1140m
Christmas ski rating

Widen your search: