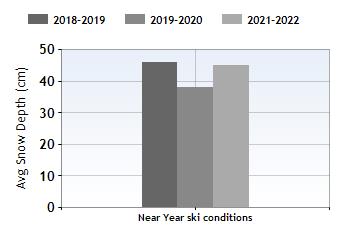 Levi New Year holidays


The great thing about spending New Year's week here is that you can enjoy the usual Christmas traditions at home and follow them up with a week in wonderland. Christmas is still well and truly happening here, with the opportunity to meet Santa, take a reindeer sleigh ride and sometimes even meet the elves...
Anyone looking for something special from their New Year's celebrations is sure to have a spectacular time in Levi. Tuikku's a great spot for beginning the night, where you can have a round of drinks before making your way down the fell into the village. Zero Point has put on some brilliant fireworks displays in recent years, and we reckon sharing a fondue at Tango – just beside the front pistes – is the best way to warm up before gathering in the square to watch!
The Northern Lights tend to have frequent sightings around this time, so for a chance of witnessing Mother Nature's own fireworks, what could be better than zipping out into the wilderness on a snowmobile? If the party atmosphere's more your thing, Areena's got a tradition of hosting the town's liveliest NYE club night.
Thanks to the cold, dry air of the arctic, Levi's snow conditions are an absolute dream. Be sure to wrap up warm in an insulated suit (we should be able to include this in your booking) so you can remain toasty whilst carving up the pistes. You'll even find campfires dotted around Levitunturi , while there's no shortage of tree lined pistes (particularly around the snow park and Etelärinteet) to keep sheltered in if the white stuff gets a little relentless.
New Year snow and skiing conditions in Levi
Near Year Snow History
Top alt:531m
Average snow depth
Near Year54cm
Bottom alt:200m
Average snow depth
Near Year32cm
Resort alt:200m
Near Year ski rating

Widen your search: