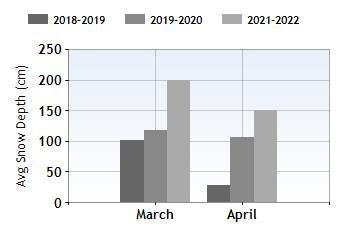 Kimberley Easter holidays


Easter's nearing the end of the season for Kimberley Alpine resort, but despite the area's reputation for shedloads of sunshine, the snow usually manages to hold its own – they wouldn't have named a chairlift Easter if it wasn't going to be in action! The result? Beautiful days of skiing beneath cloudless blue skies. Kimberley's legendary golf courses usually come out of hibernation at this time of year, making for a fantastic afternoon activity if the slopes are getting slushy.
More often than not, Easter week coincides with the annual Spring Splash, where brave skiers try to glide across the surface of the lake. Many have tried, and many have failed (if you're getting involved, have a towel and warm drink at the ready – the sun may be warming but that water's super cold!).
Children can look out for the Easter Bunny, who usually hides eggs and chocolate around the base area, or take the trip to the nearby heritage town of Fort Steele for an Easter extravaganza which traditionally includes bonnet making, egg decoration contests and wagon rides.
As for the rest of your stay, relax in the sunshine with a BBQ and awesome views of the Rockies on the Stemwinder's sundeck, head out of the resort and into the town (of the same name) to experience the farmers markets which spring up beside the quirky Bavarian architecture. While you're there, you won't want to miss the town's pride and joy – the world's largest cuckoo clock.
Easter snow and skiing conditions in Kimberley
Easter Snow History
Top alt:1982m
Average snow depth
Mar/Apr148cm/96cm
Bottom alt:1230m
Average snow depth
Mar/Apr130cm/94cm
Resort alt:1230m
Easter ski rating

Widen your search: