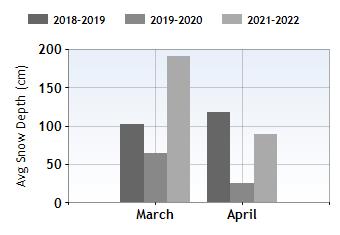 Bansko Easter holidays


Whilst the snowfall in some other ski resorts may suffer under the sun at this time of year, Bansko has the fortune of the best snow in Bulgaria and all North-facing slopes. This means they'll be nice and shady, and the precious powder will hopefully stay intact and ready to be carved up by the happy skiers. We at Sno can do many things, but unfortunately predicting the future isn't one of them, so if the worst comes to worst and the snow in Bansko can't quite hold out til the end of the day, make the most of it in the morning, before topping up your tan in 180° Bar's sunny beer garden. Most skiers tend to hop on the gondola back down to town rather than ski the lower runs if the conditions are a bit slushy at the bottom of the area (this is one of only a few resorts where you can do this!).
The thought of going to school in the Easter holidays might not sound too appealing to kids, but they'll be quickly relieved when they hear it's one of the great ski schools here- the Pirin, Ulen and Method ski schools all fantastic choices. Choose from any of the great hotels on offer, including the Hotel Sport Bansko (just 30m from the ski school meeting points!), and book in advance for an unforgettable Easter family break.
Easter snow and skiing conditions in Bansko
Easter Snow History
Top alt:2600m
Average snow depth
Mar/Apr158cm/114cm
Bottom alt:936m
Average snow depth
Mar/Apr81cm/41cm
Resort alt:936m
Easter ski rating

Widen your search: