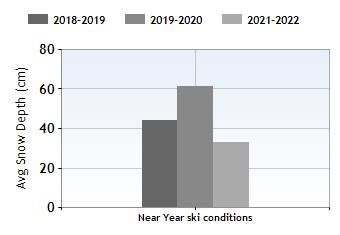 Bansko New Year holidays


What better way to welcome in the New Year than by partying late into the night, before nursing your hangover with some crisp mountain air and carving through fresh powder. Famous for having the best snow in Bulgaria, thanks to a ski area that stretches up to 2560m and 90% of the ski are being covered by artificial snow, this is a fantastic choice if you want to ski in Bulgaria this early in the season. You'll have a wide choice in terms of how you want to celebrate your 31st December here in Bansko, whether it's with a classy Gala dinner, enjoying a drink or three and dancing on tables, or the perfect balance of the two. If it's the former you're after, then the Hotel Pirin (with accompanying live music) or the MPM Hotel Guinness are perfect. After you've enjoyed a hearty meal head outside to marvel at the fireworks, illuminating the sky against the backdrop of the Pirin mountain range – plenty of ooh's and ahh's guaranteed.
If you back yourself to be awake in time to make the most of skiing on New Year's Day, head over to one of many bars – we like Oxygen, (just off the main square) or the aptly named Amnesia, known to carry the partying late into the early hours.
New Year snow and skiing conditions in Bansko
Near Year Snow History
Top alt:2600m
Average snow depth
Near Year67cm
Bottom alt:936m
Average snow depth
Near Year25cm
Resort alt:936m
Near Year ski rating

Widen your search: