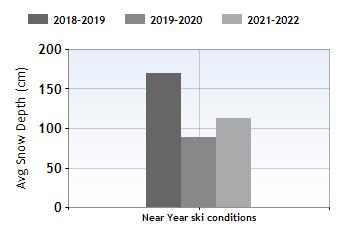 Obertauern New Year holidays


It's well-known that the Austrian's know how to party and Obertauern is no exception when it comes to lively celebrations on New Year's Eve. With many hotels providing special gala dinners on the 31st, Obertauern is a great place to toast the New Year with a peach schnapps in hand! If past years are anything to go by, as the clock strikes 12 crowds gather in the centre of town and you'll be treated to a spectacular firework display. Whether you fancy seeing in the New Year with a luxury banquet, relaxing around the open fire with your loved ones or partying until the early hours it's all possible in this fantastic town.
With a large ski area of 100km and a top altitude of 2013m and skiing for all abilities, Obertauern is a terrific place to ski at New Year. We love the fact that the ski area forms a natural circuit, meaning that whichever direction you ski off first thing, you'll always return to where you started. The conditions are known for being fantastic too, which is an important thing to consider when you're skiing this early in the season. As your first New Year's resolution we challenge you to ski the infamous Gamsleiten No.2 (one of the steepest black runs in Europe) or set the new year off to a romantic start with a horse-drawn sleigh ride through beautiful scenery.
New Year snow and skiing conditions in Obertauern
Near Year Snow History
Top alt:2313m
Average snow depth
Near Year157cm
Bottom alt:1740m
Average snow depth
Near Year90cm
Resort alt:1740m
Near Year ski rating

Widen your search: