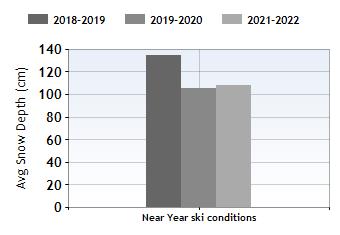 Neustift New Year holidays


Neutift's local ski slopes and the four other nearby ski areas provide a variety of skiing and scenery for your week on the snow – potter around on the Elfer to your heart's content or spend each day exploring a new ski area. Being one of the resorts nearest to the Stubai glacier, finding good snow shouldn't be a problem, even if the lower slopes aren't up to scratch.
If you don't want to say goodbye to Christmas just yet, simply wandering around this traditional Austrian village should keep you feeling festive. For even more, head into Innsbruck (about half an hour's drive) where the Christmas Market on the main shopping street usually stays open for the first few days of January.
Innsbruck's also the place to spend New Year's Eve if you like to celebrate with street parties, live music and awesome pyrotechnics. Alternatively, stay in Neustift where you're likely to find gala dinners in the hotels and events in venues like Dorf Pub.
To make the most of January 1st, wrap up warm and head over to the glacier and ski some of the best snow in Austria - the sights from the viewing platform will make a spectacular start to the year.
New Year snow and skiing conditions in Neustift
Near Year Snow History
Top alt:3210m
Average snow depth
Near Year173cm
Bottom alt:1000m
Average snow depth
Near Year58cm
Resort alt:994m
Near Year ski rating

Widen your search: