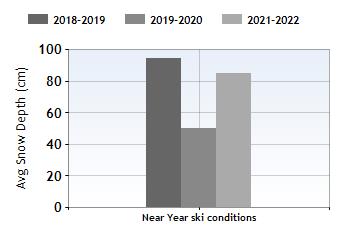 Filzmoos New Year holidays


If you prefer not to spend New Year's covered in confetti and cava, or are simply still recovering from last year's roaring do, Filzmoos is the place to celebrate at a slower pace.
On the afternoon of the 31st, previous years have seen themed snowshoe walks over the Dachstein Glacier, where kids will love the Sky Walk and Ice Palace. Later on there's also often a tobogganing event from the Kleinbergalm hut, where you can hurtle down to the village beneath stars and fading fireworks.
Child-friendly bars like Kenn-I-Di and Happy Alm are main sources of après, so you don't have to worry about being kept up all hours by riotous celebrations. This doesn't mean you'll be tucked up in bed for 12 (unless, of course, you're getting up early to enjoy a New Year's balloon ride). Most years see crowds gather round the base of the torch-lit Papageno slope on the 31st, where ski school instructors put on a show as a prelude to a cracking firework display. Otherwise, you might be dressed to impress at one of a score of hotel gala dinners - our ski specialists can confirm which packages include these.
A great thing about NY in Filzmoos: if you're staying for a little longer than a week, you may even catch Hot Air Balloon Week. Its races, distance and target competitions, special "fly-in" event and traditional "Night of the Balloons" are the main reasons Filz is known as the Hot Air Ballooning capital of Austria.
New Year snow and skiing conditions in Filzmoos
Near Year Snow History
Top alt:1597m
Average snow depth
Near Year106cm
Bottom alt:1057m
Average snow depth
Near Year46cm
Resort alt:1057m
Near Year ski rating

Widen your search: