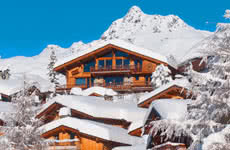 A quiet French resort, this little village oozes calm and is just the ticket for those looking for a ski break with space to spread out on the slopes. Perched on the France-Italian border, La Rosière can is just under two hours drive from Chambéry. If travelling by snow train, regular bus transfers take train travellers from Bourg Saint-Maurice to the resort. Place your bags and luggage down upon arrival and take a second to appreciate the spectacular views over the sweeping Tarentaise Valley below. Once ...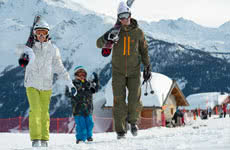 With over 30 green and blue pistes, La Rosiere is ideal for first-time skiers to become familiar with the slopes. From La Rosière 1850m centre, watch time fly as you go up and down the green runs of Clarines, Ecureuil the Forêt and the like. Then it's all aboard the Roches Noires Express to push yourself to the next level of blue runs. Beginner snowboarders will be grateful for the Roches Noires and Landelieres chairlifts, offering long, sloping blue runs with all the practice space needed for traversing heel...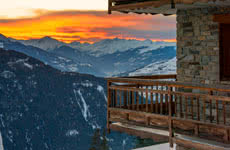 The hustle and bustle of après ski will be mostly coming from this family-friendly resort's restaurants and bars. Le Relais du Petit Saint-Bernard's hotel holds a classic family restaurant, where talented chefs serve up Savoyard family favourites with heart. Its impressive bay windows offer views over the sunny eastern and southern slopes, and there's plenty of space for more tables to accommodate groups, great if you've got a large gang! On a romantic ski getaway and fancy a cosier location? Le Genepi restaur...