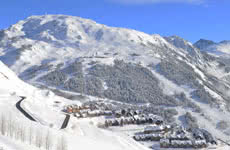 Established in 1964 and developed by Spanish national ski champion Luis Arias, Baqueira attracts a predominantly Spanish clientele – his majesty, Juan Carlos, has his own residence here, which his children are said to visit nearly every weekend of the season. But don't expect Espagnol to be the only language, or culture, you encounter in this remote region of the Pyrenees… In actual fact it's the third official language, behind Catalan and Aranese - an offshoot of Catalan exclusive to the surrounding Aran Va...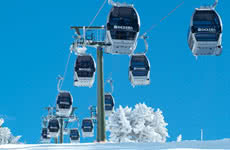 If you're a first-timer, make your way up to the beginner park via the Baqueira gondola, where you'll find the forgiving Rabada and Pastores greens to master your turns on before graduating to bluer pastures. Easy-going blues run from Beret through Baqueira and on to Bonaigua, so if you're quick finding your feet, you'll soon be able to ski the length of the resort. Tentative intermediates can ride the Jesus Serra chair towards Beret to take their pick of nine blue runs (we like the long and rolling Ta Baq...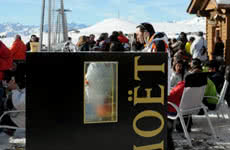 The beauty of skiing in a Spanish resort is hands down the all-night-long, Spanish après! Baq isn't a huge resort, but it has built an extensive collection of quality drinking spots. Start off with a glass of fizz at Beret's chic Moet Lounge and then head down to El Refugi de San Miguel, which serves blissfully cold (you guessed it) San Miguel. To really make like a local though, order a cremate - a hot brandy and popular Catalonian tipple. Dinner tends to start at after 9 in Spain and consists mainly of...