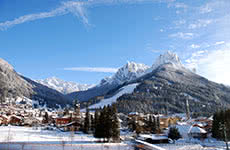 The village of Pozza di Fassa and the smaller Pera Hamlet are nestled within the stunning surroundings of the Cima Undici and Cima Dodici mountain range, with breathtaking views of the striking Vajolet Towers. Getting here takes about 2.5 hours from Venice and Verona airports and if you're planning to take the train, Bolanzo and Trento are the nearest stations and have bus and taxi links to the resort. As a ski destination, this small, picturesque village offers snow-lovers a laid-back atmosphere on and off ...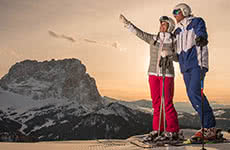 The Vajolet ski school holds lessons on the quiet Fraine nursery slope at resort height, there's a class dedicated to children and a fun playground on the snow. Beginners can ski the beginner runs of Fraine-Pozza di Fassa which are accessed by drag lifts. With the majority of pistes graded red, this is a perfect destination for intermediates. After rekindling your confidence at Buffaure, you have over 1200km of piste to explore within the stunning Dolomite ski region. The Val di Fassa/ Carezza ski pass gives ...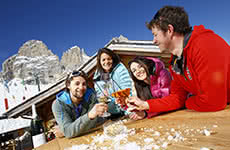 As one of the smaller resorts in the Val di Fassa there's a laid-back après scene here with evening activities focussed around hotel accommodation and cosy bars and restaurants. Indulge your taste buds at La Regolina - this friendly restaurant offers some of the best local cuisine and La Soldanella is another top spot for traditional Italian meals. There are a number of casual eateries around- Pizzeria Winkler is our favourite with arguably the best pizza in the area. The El Zirm wine bar has a cosy ambie...