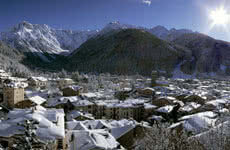 Up in the Rhaetian Alps at 1883m, rubbing shoulders with Trentino and Lombardy, the purpose built town of Tonale is one of the highest resorts in the country. With a top altitude of 3016m, snow is pretty much guaranteed throughout the season here, as is lots of Italian sunshine. Milan and Verona are the nearest serving airports, where you can find coach, taxi and train connections to the resort. Trains from Milan pass through Verona to Trento where the rail service stops at all of Val di Sole's top resorts, ...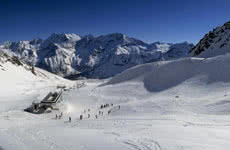 As a beginner, having to take loads of lifts to reach the easy runs can be a bit daunting. You don't have to worry about this here, with the majority of blues near hotels and bars, for those all-important hot chocolate / Dutch courage breaks. Nursery slopes with magic carpets let learners work on snowploughs in short, manageable bursts - when you begin to feel more comfortable, take the Valena chair lift for a couple of mid-length blues. 60% of the slopes have been carefully crafted for intermediates, leadin...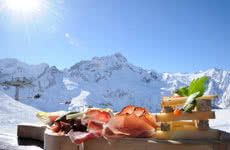 Of course one of the best things about Italy is its delectable delicacies, and whether you're looking for fast food to fill you after a hard days skiing (try La Torretta for their filling pizza) or a more authentic, native dining experience (El Bait serves local, genuine cuisine), you won't be disappointed. La Voglia serves group sized platters of cured meat antipasti, local cheeses and a deli counter so you can take your favourite products home and enjoy them all over again! Eating on a budget is easy, with f...