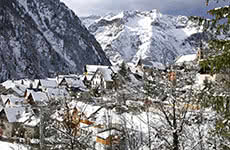 Grenoble is the closest airport with a transfer time of just under 2 hours, making the resort accessible by road. The resort was first used for skiing as early as 1925 when the first ski tow was built. The "Les Deux Alpes", as we know it today, was established in 1946. It is commonly assumed that the name is derived from the two mountains on either side of the town when in reality the name stems from the two villages on either side of the settlement: Mont De Lans and Venosc. The resort is compact, and you'...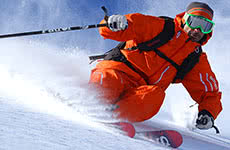 There are plenty of beginner slopes on the front face with runs like les Vikings and Les Gentianes for those learning to ski. The great thing about Les Deux Alpes is that there are some terrific beginner slopes higher up the mountain so new skiers can experience the benefits of skiing at altitude. The Cretes area at 2100m is the favourite spot for ski schools, with the ski escalator a welcome aid to those learning to ski. The run home at the end of the day used to have a fearsome reputation for being overcrowded...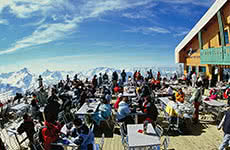 You don't have to look far to find good après in Les Deux Alpes. One of the best bars in resort is Pano bar, this slopeside restaurant, based at 2,600m comes alive at happy hour between 3 pm and 5 pm every day with discounted drinks and a DJ set that will vibrate through your whole body. At the bottom of the piste, Umbrella bar is a great place to keep the party going. If you want to take the night further then Smithy's is the place to go, with great modern music as well as live entertainment on several night...