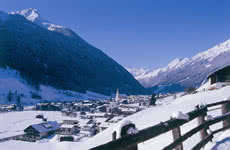 Situated in the Tyrol region of the Austrian Alps, at the bottom of the Stubai valley, is the village of Neustift. Over a hundred mountain peaks tower above the valley, some of which, like the formidable Habicht to the west, stand at over 3000m. This majestic backdrop is complemented by pine forests and, in summer, beautiful floral pastures. The area is dotted with traditional wooden huts, and the rococo-style church of St. Georg at the centre of the village also contributes to its unique charm, with its magnifi...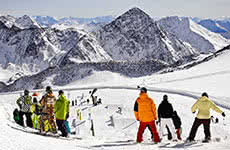 The entire ski area, including the local Elfer mountain area and the glacier, is around 1450 hectares. Beginner's runs cover 21km, intermediates have 14km, and there are 5km of advanced courses as well as 19km ungroomed slopes that should be skied with a guide. Beginners will find the Elfer an ideal place to start. Accessible by the resort gondola, you'll find plenty of short runs here to ease your way into the sport. Once you've mastered these you'll want to take the hourly bus or drive 20 minutes fur...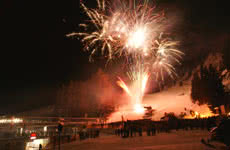 Pay a visit to Austria's highest restaurant, the Jochdole, or the Bellafonte, offering a great selection of pizzas and probably the best value around. The Grill Stube is a must for carnivores, with a large open grill where you can see your meat being cooked. Those looking for gourmet food and great wine should head to Schaufelspitz, or make the trip into Fulpmes for a wider selection of more upmarket restaurants. As for drinks and evening entertainment, there's the lively Dorf pub, where you can bop along t...